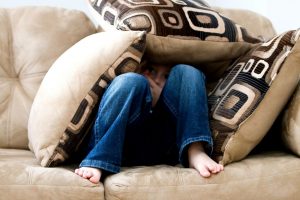 Sisters and Brothers,
My sweet girl has reached the age that she is afraid of things. In the last couple of months, every dark corner and loud noise is a bear. At first, I thought she wanted some attention or a reason to cuddle up until I looked at her face. Just as she was about to run in to our front room, she heard a loud noise. Her face spoke volumes to her panic and fear, and she ran as fast as she could to my lap, screaming, "It's a bear." We tried to reason with her. We tried to show her books of where bears live. It didn't help. She is still fascinated and terrified by bears. When the fear moved to bedtime, I knew we were in for some hard bedtimes. We started to let her set the house alarm so no bears got in the house when we were sleeping. It worked for a night.
Finally, one night as I rocked her at bedtime after saying our memory verse and prayers, I realized that I was missing an opportunity to connect faith and life together.
"Let's pray to God to protect you for the bears at night, Eliana Grace."
She looked up at me with big eyes.
"You know how we pray for other people when they are sick or hurt. God is there for us when we are scared as well. God is with us all the time."
She looked at me, "Where? Where is God?"
"In your heart," I responded.
She began to lift up her shirt to try to "see" God for herself. I laughed and explained to her, "You can't see God, but you can feel God. Put your hand over your heart. Do you feel that? That is God. God is the beat of your heart and the love you have for other people. When you feel your heart beat, you can remember that God is there with you. You are never alone. Let's pray, Eliana Grace."
She went to bed easy that night.
As I reflect back on that night, I am disappointed it took so long for me to figure out that this was the perfect opportunity to grow my sweet 2 year old's faith. Also, I am reminded how many times I miss that in my own life.
Isaiah 41:10 says, "Do not fear, for I am with you, do not be afraid, for I am your God; I will strengthen you, I will help you, I will uphold you with my victorious right hand."
When life makes your heart race with fear, panic, anxiety, or whatever, maybe it is a simple reminder of the powerful and mighty God who lives in each of us. When life makes our hearts sad with brokenness, maybe it is a simple reminder of the loving and compassion God who lives in each of us. When life throws anything our way, maybe it is a simple reminder that God is there.
God is always there.
Pastor Laura Henrik