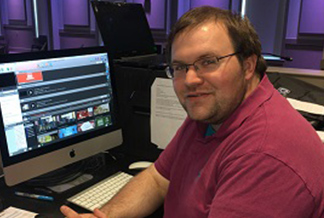 Taylor Hutchins rules the lights and sounds. Originally from North Carolina, Taylor joined staff at St. John's in 2015.  Taylor is an alumnus of Gardner-Webb University.
Taylor loves to travel when he has the opportunity, as well as go to the theatre.
A hero of Taylor's is Dr. Joseph Webb. Dr. Webb was a professor of his while in college. Taylor took many different classes with Dr. Webb, including communication law and communication theory. Taylor credits Dr. Webb with teaching him how to think outside the box and forcing him to think for himself in many different areas.
What Taylor loves most about his job is that he doesn't see it as a job. He says that he knows he was called to work in the church and loves being able to call St. John's home to his ministry. He loves the people and staff, and he says "I have literally THE BEST volunteers!" He also loves the atmosphere, and all the cool tech toys that he gets to work with every day!
"I honestly feel like God put me exactly where I am supposed to be and is truly blessing me personally while being a part of St. John's."
Email: taylor@stjohns-salisbury.org