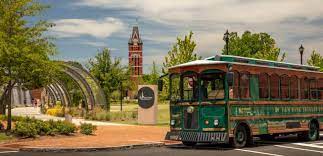 Tuesday, August 23: Trolley Tour with Jenn Selby

We are fortunate to have Jenn as our guide for this tour of art sculptures in Salisbury.  She is the Chair of the Department of Art & Design at Rowan-Cabarrus Community College. She publishes art criticism and has a long biography of accomplishments. Jenn has significant knowledge of each piece of art. You will find her a very interesting speaker.

In order to secure the Trolley Tour, you will need to register before August 12 and there must be at least 15 people signing up.  The cost is $10 + driver tip. To help you make an informed decision, please note that the Trolley is climate controlled. We can "beat the August heat" and learn more about the artistic abilities of the people across the US. At the end, we will take a straw poll of our favorites.

Sign up TODAY!