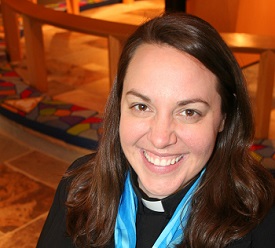 Pastor Danielle serves as our Pastor for Discipleship working with our adults in ministries like LifeGroups.  She lives here in Salisbury with her husband Michael and their son, Moses.  Pastor Danielle joined the staff in 2012.
School: American University and Duke Divinity School
Home state: Ohio
In my spare time, I like to: Drink chai, watch movies
A hero of mine is: Jesus and Joan of Arc
One of my quirks is: I set my alarm to wake up at interesting times, never a 0 or a 5.
What I love most about my job is: I love watching people embrace Jesus. I love watching them fall in love with faith and anchor their hope in a God who never fails. And you can't beat doing it as a team, especially the team at St. John's.