A Gift with a Story: 12 Stone Art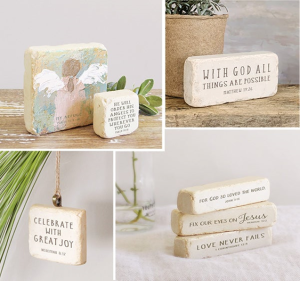 By Angel Owens
We all have love languages– how we best recognize and receive love and how we most naturally share love. Mine is NOT gift giving. I love giving a good gift, especially when it isn't for a particular occasion. I'm just not particularly good at it.
That's why I love learning and sharing the stories behind gifts. By connecting the gift to a specific history, story, or ministry, I can become a more thoughtful gift giver. I can begin to think, "I know she's having a hard time, and she might appreciate this," and not just the gift itself, but the story.
Gifts are one way that we can bring comfort and encouragement to those we love. What better way than by sharing God's word.
Quarried in the mountains east of the ancient city of Ephesus, these marble stones are handcrafted and distressed by artisans here in the United States.
If Ephesus sounds familiar, that's because it has biblical and evangelical significance. "Ephesus was the most important city in western Asia Minor (now Turkey). It had a harbor that at that time opened into the Cayster River (see map, p. 2429), which in turn emptied into the Aegean Sea (see map, p. 2599). Because it was also at an intersection of major trade routes, Ephesus became a commercial center. It boasted a pagan temple dedicated to the Roman goddess Diana (Greek Artemis); cf. Ac 19:23-31. Paul made Ephesus a center for evangelism for about three years
(see note on Ac 19:10)." (www.biblestudytools.com/ephesians/)
I love the idea of sharing God's word a literal piece of the land where evangelism took root in the early church– from a history that proclaimed that the gospel, God's grace, and peace are for everybody.
The name 12 Stones is inspired by how Joshua used twelve stones as a memorial of God's love and faithfulness in Joshua 4:1-9. But the ministry of 12 Stones Art goes beyond sharing encouraging bible quotes. Ten percent of gross sales go towards well-drilling to provide clean water in developing countries and to share the tangible love of Jesus through Iris Global and Compassion International. 12 Stone Art also donates the stone that they are unable to use to Habitat for Humanity. (twelvestoneart.com).