2021-2022 Rwanda Ministry Update
St. John's has a rich tradition of outreach to brothers and sisters in need near and far. St. John's global ministry partners include Dar al Kalima University and Bright Stars of Bethlehem in the West Bank, Escuela Integrada and GRACES in Antigua, Guatemala, the Gumriak and Nyarweng Primary Schools and Sudan Rowan in Ruweng County South Sudan. In more recent years, St. John's presence has been revealed in the nation of Rwanda through Carter Woolly's work with the ELCA's Young Adults in Global Mission.
Looking forward toward continued global partnerships in 2022, shepherds for each mission partner reveal their goals and resolutions for each of these ministries in the coming year.  Please enjoy reading about each mission partner and how to support each ministry.
Rwanda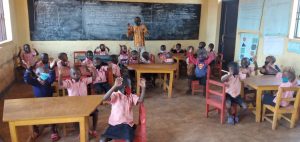 Ministry History
The Rwandan ministry is a partnership between St. John's and the parish church in Rukira. It stemmed from Carter Woolly's Young Adults in Global Missions (YAGM) year when he lived and worked out of the parish church office. In 2019, St. John's raised $12,870 to assist with the construction of modern structures with the intent of housing a primary school next to the church. This would grow the Lutheran church's visibility in the community and provide a much-needed source of income for the church. So far, the project has stalled due to government hesitancy and the COVID pandemic, but they have been able to use the buildings for the church's preschool. The Lutheran Church in Rwanda is a small, growing group focused primarily on former Rwandan refugees from Tanzania who returned to the country following the 1994 genocide.
St. John's Support
St. John's provided $12,870 towards the construction of buildings meant to house a primary school on adjacent to the church.
Ministry Shepherd:
Carter Woolly, carter_woolly@yahoo.com; (704) 754-0180
New Year's Resolution
To continue to grow the relationship between the two churches. A formal greeting or a non-monetary gift would go a long way in increasing the bonds between the two congregations.
Ministry goals for 2022
Create more lasting relationships between St. John's and the Rukira parish beyond the Carter and Pastor Mulisa pipeline.
Support the resumption of the YAGM program in Rwanda.
Hope that the government approves the establishment of the secondary school.
---
How to Support Global Missions
Donations may be made to these ministries using the information cited below or through a donation to St. John's with the ministry name in the memo on online designation.
Bethlehem: https://brightstarsbethlehem.org/
Guatemala: Checks made to GRACES and mailed to PO Box 532, Salisbury, NC 28145 or visit www.wearegraces.org
South Sudan: Checks made to Sudan Rowan and mailed to 576 Adrian Road, Salisbury, NC 28146
Rwanda: St. John's – earmarked for Rwandan ministry
ELCA Global Mission: www.elca.org/Our-Work/Global-Mission
Lutheran World Relief: https://lwr.org/