2021-2022 Bethlehem Ministry Update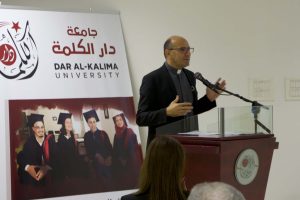 St. John's has a rich tradition of outreach to brothers and sisters in need near and far. St. John's global ministry partners include Dar al Kalima University and Bright Stars of Bethlehem in the West Bank, Escuela Integrada and GRACES in Antigua, Guatemala, the Gumriak and Nyarweng Primary Schools and Sudan Rowan in Ruweng County South Sudan. In more recent years, St. John's presence has been revealed in the nation of Rwanda through Carter Woolly's work with the ELCA's Young Adults in Global Mission.
Looking forward toward continued global partnerships in 2022, shepherds for each mission partner reveal their goals and resolutions for each of these ministries in the coming year.  Please enjoy reading about each mission partner and how to support each ministry.
Ministry History
St. John's partnership with Dar al Kalima University and Bright Stars of Bethlehem began in 2012/2013 after Rev. Dr. Mitri Raheb spoke at a breakfast meeting at St. John's about his ministry initiatives as a Palestinian pastor. Dar al Kalima University's mission is to raise awareness and support to educate creative leaders in Palestine.
In 2019, St. John's also formed a covenant partnership with Evangelical Lutheran Christmas Church in Bethlehem. We have agreed to:
Accompany one another in our journey of faith.
To pray with another and for one another.
To empower one another as we do kingdom's work.
To work in solidarity with one another in our struggle for mercy and justice.
To learn from the other's experience and wisdom.
To remind one another of the hope we have in Christ.
St. John's Support
Organizing Holy Land pilgrimage tours
Hosting art shows, culinary event and Israel/Palestine panel discussions
Building awareness with U.S. senators and representatives on issues pertaining to Palestinian marginalization
Coordinating joint Advent initiatives including Evangelical Lutheran Christmas church prayer service simulcasts, advent daily devotionals and service videos
Providing financial support through the Benevolent Foundation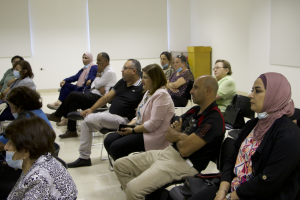 Ministry Shepherd
Michael Connor – mjconnor1982@gmail.com ; cell 734 255 7230; home phone 704 633 0333
New Year's Resolution
To establish more personal connections by developing relationships between St. John's members and Evangelical Lutheran Christmas Church as well as Dar al Kalima University.
Ministry goals for 2022
Bethlehem Senior Memory Care Training Program in Bethlehem – March 2022
St. John's Holy Land Pilgrimage Tour – October 2022
Connecting People – identify both St. John's and Christmas Lutheran church members interested in getting to know each other.
---
How to Support Global Missions
Donations may be made to these ministries using the information cited below or through a donation to St. John's with the ministry name in the memo on online designation.