The Gift of a Memory: Mr. Bird Feeder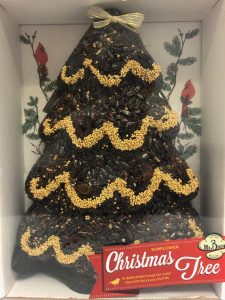 By Angel Owens
Pastor Laura wrote a letter for the Eagle's View last year that talked about how grief comes in waves. For some, the holiday season can be a difficult reminder that life goes on without the ones we have lost.
This is my first Christmas without my Nana. I grew up next door to her. So when my siblings and I visited, we would just tell mom we were "going up the hill." When I was 11, my family moved less than a mile away; I drew up a document for my sister to sign that stated she would drive me to Nana's anytime I wanted. My Nana was my favorite person. She was the matriarch of my family. She danced to Elvis, kept a pool at her house for her grandkids even though she didn't know how to swim, and would let you know that if you left her house hungry that it was your own fault.
For Christmas growing up, I just bought her Reese's cups, her favorite treat, and a candle. As I got older, I started adding little things that she mentioned she needed, like large cans of coffee and cleaning supplies. When I began working at St. John's, I continued the tradition, but would replace the candle with a specialty gift from Seasons Gifts that I thought she would like.
When I scrolled through the list of vendor partnerships to highlight for Christmas, I landed on the Mr. Bird feeder. In just a few minutes, I was back in the moment of gifting one to my Nana, and our consequential conversations, including where best to put the feeder in her yard and how much the birds enjoyed it.
Sometimes the most unsuspecting things take us back. A sweet reminder of a gift given to someone we miss is a gift in itself.
For someone who loves to look out their window at the birds, enjoying their fourth cup of coffee for the day, I suggest a Mr. Bird feeder, but that's because it carries a sweet memory for me. If your loved one prefers puzzles, kitchen décor, or jewelry, you can find a heart-felt gift just for them in Seasons Gifts.
A little more on Mr. Bird from their website:
Started on a kitchen counter, Mr. Bird is now one of the largest seed block and bird seed gift manufacturers in the nation.
"Birds are in Our Nature. We started Mr. Bird in 1996 when we owned an independent wild bird supply store in San Antonio, Texas. In helping our customers we could see a demand for a better way to feed birds; loose seed would often be wasted and suet would melt in our hot summers. Also, for some reason, birds in our area just wouldn't eat suet. So our first seed and nut blocks were designed to train birds to come to the suet feeders, once the birds were used to the feeder they could then be switched to suet. Imagine our surprise when no one wanted to make the change to suet. Our blocks looked good, felt good, smelled good, and the birds went crazy for them. Why mess with messy suet?"