Shower the Dwelling with Love
From their mission statement: "The Dwelling proclaims boldly that there is holiness in the identity as someone experiencing homelessness, that they share a kinship with God who reminds us all that we are all wanderers in search of belonging."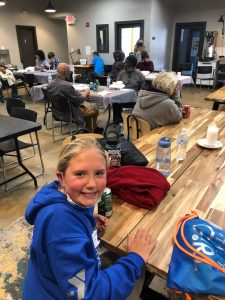 By Susan Shinn Turner
St. John's is developing a new relationship with The Dwelling in Winston-Salem. The Dwelling is a church for those experiencing homelessness. Its founding partners are the North Carolina Synod, Moravian Church Southern Province, City with Dwellings, and Augsburg Lutheran Church.
Pastor and founder of The Dwelling is the Rev. Emily Norris, daughter-in-law of Kathy and Darrell Norris.
This Advent season, St. John's women's ministry (GIFT) and Kingdom Kids are sponsoring a service project to benefit one of the primary ministries of The Dwelling, the mobile shower unit.
Members are invited to bring shower kits that will be distributed to everyone using the mobile shower unit. Details are at the end of this article.
The Dwelling's website has this to say about the shower ministry: "Recognizing the baptismal connections of access to a shower, a basic human luxury, The Dwelling stewards a mobile shower ministry where persons experiencing homelessness are able to be washed and renewed as a reminder of their belovedness. There is healing and dignity that comes with the gift of water, and The Dwelling, with the help of local partners and volunteers, will be stewards of that gift. "
Kristin May learned about The Dwelling and invited the GIFT team to consider forming the partnership.
"We were talking about our Christmas party," she says, "and we decided we wanted to do something for the community this year. The Dwelling just made sense. Within the last year, Pastor Emily had preached here at St. John's, her husband grew up here, and the ministry was expanding. It just made sense to partner."
In addition to the service project, GIFT's Christmas party is titled "Shower The Dwelling with Love," where they'll assemble shower kits.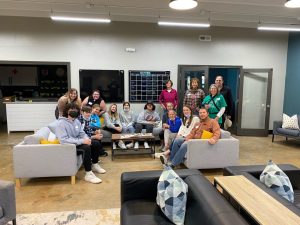 Our youth group is also getting involved. Caroline Parrott, interim youth director, took the youth to The Dwelling on Nov. 14 for a RAK (Random Acts of Kindness) Attack to serve a meal.
"I was planning our November RAK Attack and I knew I wanted to do something there," Caroline says. "We left St. John's on Sunday morning at 10 am, joined them for worship, and then shared a meal with them afterwards."
She continues, "It really was a unique experience. It was come as you are. There was no music, and no churchy words. But still, I got a lot out of it. It stripped down the service to bare bones. I worshipped with people who didn't look like me and that was really cool."
"I definitely feel called to give in that way," she says. "I left there feeling like I wanted to come again. Doing something like this seems like a good way to get started."
The group received Thrivent grants for shower supplies and meal preparation. As Pastor Emily reminded the students, "sharing a meal is serving."
B.J. Connor and her husband, Mike, also attended the service with St. John's youth.
"We worshipped and ate with 'misfits on the margins,"
B.J. says. "We were alongside people who are homeless, some who were struggling with addictions, and others who were recently out of prison."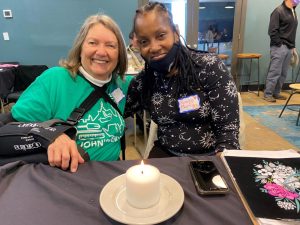 "During confession, people can shout out how they're feeling like 'afraid' or 'angry.' People are free to wander in and out. The message is always that Jesus' love is bigger than the worst thing you've ever done. There's a real feeling of community, acceptance, welcome, inclusiveness, mutual support."
B.J. recounts making a new friend, Rosalyn, who gave thanks for being "clean" 65 days. "She keeps track of the number of days on her phone. She likes to do artwork during the sermon, making comments like 'Mm hmmm' and 'That's right!' as she colored away. She used her cigarette lighter to light the candle on our table and other nearby tables. "
B.J. and Rosalyn have continued their friendship, staying in touch through text message.
B.J. continues, "It was a very meaningful service for us. There's a real feeling of community, acceptance, welcome, inclusiveness, and mutual support."
Caroline Parrot echoes B.J.'s feelings toward the ministry and encourages the congregation to support GIFT and Kingdom Kids' efforts in collecting shower supplies.
You can "Shower the Dwelling with Love" by dropping off completed Ziploc bags between now and Dec. 19. Individual items can be dropped off until Dec. 9, when GIFT will have a packing party. After that date, please only bring completed shower bags.
Items for each kit should include:
Travel size or small bar of soap
Travel size shampoo
Travel size conditioner
Travel size lotion
Individually wrapped toothbrush
Toothpaste
Full-sized deodorant
Comb
Washcloth
Lip balm
Travel size facial tissue
Because bus rides to and from worship and the shower ministry can be provided with $1 bills, we will be collecting dollar bills each Sunday to provide transportation, with the exception of Sunday, Dec. 5, which supports Buck-A-Meal at Rowan Helping Ministry.
If you would like to write a check to support this ministry, it should be addressed to The Dwelling.