A St. John's Christmas Festival: The Men's Chorus is Back in Concert!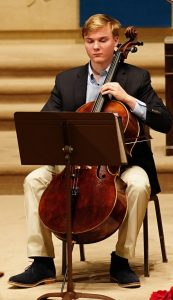 By Susan Shinn Turner
They're B-A-A-A-A-A-A-C-K!!!
After a two-year hiatus, the St. John's Men's Chorus will present a Christmas concert on Sunday, Dec. 5, at 4 pm in the Sanctuary.
"I knew we could do something," says Deacon Rob Durocher, Minister of Music and the Arts. "If there were enough Men's Chorus members interested, we could pull together something."
Turns out, there were. So much so that Rob was surprised at the interest. The men have been ready to go for the past two years. This version of the group, he says, "is made up of guys who have been with it from the very beginning 25 years ago, and it also has newer members."
"What's exciting to me is that we have new members who are area music directors, Josh Starnes at First Methodist, Lynn Lippard at Grace Lutheran, and Ron Corriher at Calvary Lutheran," Rob says. In addition, longtime chorus member Brandon Kepley is the music director at Salem Lutheran. "I think it's wonderful they want to be a part of it."
"Several of our choir members here sing in the Men's Chorus," Josh says. "I was looking for opportunities to get plugged into other things. They invited me to come along and I took them up on it. It's been a enjoyable experience. It's nice to be on the other side of things for a change, and it's been a great opportunity to build fellowship."
Because rehearsals started a bit later than normal, the concert will be more of a community event which highlights the Men's Chorus. Teresa Moore Mitchell and Ricky Howsare will sing duets and soloists, and cellists Kevin Agner and David Kim will perform. The Luther Ringers will perform under the direction of Kim Lentz, and Rosemary Kinard will direct one of the pieces.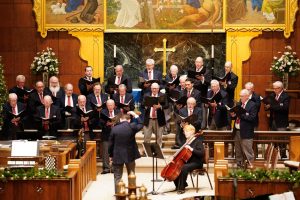 Janie Rollins accompanies the choir.
"I've been hopeful the whole two years that it would be back," she says. "It's exceeded what we've expected and we're excited about that."
"I recognize the incredible value the Men's Chorus has always had in this community," Rob says. "I love that it pulls different guys together from this community."
There have been challenges in directing the Men's Chorus, Rob says, but he calls them all "joyful challenges."
"It's a different way for this group to move ahead."
President Dennis Rogers agrees. "We're back!" he says.