Senior Memory Care in Bethlehem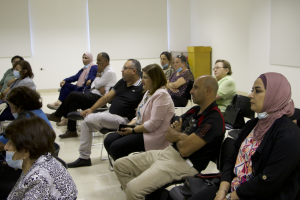 By Susan Shinn Turner
St. John's Lutheran Church and Trinity Oaks have forged a partnership with Dar al-Kalima University College of Arts and Culture to conduct an onsite Senior Memory Care Program training, tentatively set for March 12-22, 2022.
Participating in the 10-day trip are Michael Connor, project manager; Bill Johnson, St. John's member, Trinity Oaks executive director, and certified dementia care training specialist; and Deana Burris and Deb Tillman, certified dementia care training specialists with Trinity Oaks. Burris is also life enrichment campus director, while Tillman is a social worker and gerontologist.
Connor explains the genesis of the training: "In January 2019, while we were in Bethlehem, two Dar al-Kalima University staff approached B.J. and me to consider developing a short-term dementia care training program. Raeda Mansour, intergenerational program director, and Rana Khoury, vice president for development and outreach, personally shared the challenges they were experiencing caring for their mothers, who suffer from dementia.
"In addition to empowering caregivers, they shared the need to help address healthcare infrastructure issues regarding senior memory care. Over the course of 2019, we were able to form a professional senior memory care training team in collaboration with Trinity Oaks, and receive funding from various foundations and individuals. We would welcome additional funding."
Unlike nursing homes in the United States, there are no facilities in Palestine that specialize in memory care, Connor says. There's also a cultural stigma in dealing with dementia.
"There are all sorts of issues as far as educating people about dementia," he adds.
Connor also notes, "We were planning for the training in 2020 when the pandemic derailed us. The trip is now tentatively set for March, depending on what the Delta variant is doing in the U.S. It's up to Israel to let us come into the country."
As a pre-cursor for the spring training, the team offered an Oct. 11 Webinar in which 50 people on-site in Bethlehem participated, as well as an additional 55 people online.
Dr. Mitri Raheb, university president, made opening remarks, while Mansour, who will serve as local program director, gave the introduction. Dr. Tawfiq Salman, consultant psychiatrist and neurologist, led the first session, while Dr. Ashfar Al-Husseini, geriatric and internal medicine specialist, led the second. The team from Salisbury was introduced, and details shared about the intensive four-day training that will take place in the spring. Nine different organizations in Bethlehem were represented.
"On behalf of Dar al-Kalima University and the Ajyal Ministry, I would like to extend my thanks and gratitude for your precious time, efforts, experience and support," Mansour told the Salisbury team. "Without you, we could not make it."
After the training, there will be a debriefing day, Connor says, as well as an abbreviated tour of the area as this will be the first trip there for some on the team.
If you'd like to contribute to this project, please donate to St. John's Palestine Ministry.
---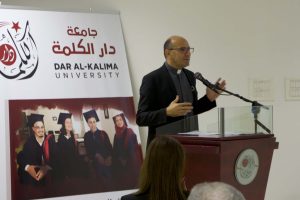 A Note From The Rev. Dr. Mitri Raheb
Almost 15 years ago, we at Diyar were blessed with the ability to take the initiative to launch an elderly care program, "AJYAL." The program, started in 2006, offers a holistic perspective to health, healing and personal wellbeing. Unlike traditional dependency models, it has a proactive nature that explores the contributing potential of the elderly in Palestine.
The program works largely with the marginalized, underprivileged elderly living in Bethlehem who are 60 years old and above, promoting a new hope for a prosperous, meaningful, and enriched life.
It has been a wonderful journey so far. However, as our main goal is to improve the quality of life of the elderly in Palestine, sometimes it is difficult to respond to some of the growing needs and various challenges that exist here in Bethlehem. One of the major issues that we are facing today is memory decline and impairment for many of our members and other seniors in the community as they begin to show some signs and symptoms of Dementia or Alzheimer's Disease.
Unfortunately, the elderly in Palestine are at risk and are deprived of their basic human rights. There are no special healthcare services provided for them, no specialization of healthcare professionals in elderly health issues, and the elderly are left out of all health insurance plans. The only gerontologist in the area is from Jerusalem and is inaccessible for most of the elderly population in the Palestinian areas because of the Israeli occupation. Israelis do not allow any person who is a holder of a West Bank ID to enter into Jerusalem without a special permit that is very difficult to obtain. Therefore, access of the elderly to quality specialized healthcare is almost completely unavailable or unattainable.
We desperately need a dedicated team with experience in geriatric medicine, especially dementia and Alzheimer's Disease, to conduct an extensive training for medical staff and caregivers in Palestine. This training will be conducted first in Bethlehem, then will be widely extended to include other areas of the West Bank.
It is our goal to make sure every person over 60 living in Palestine has a full and abundant life, and that includes having access to sufficient medical care.