Find Comfort with Bunnies by the Bay
It's baby season! Don't believe me? This is the second autumn in a row that I am anticipating the arrival of more than one sweet little one. Last year, I made sure to browse Seasons Gifts for baby shower and Christmas gifts. This year, I get to do the same. My brother and his wife are expecting twins! Can you tell I am excited?
Of course, I purchase items off of the registry that expectant parents will need, but there is something special about finding a unique item or two from the heart. This year, I plan to peruse the items from Bunnies by the Bay, a company born out of compassion and the desire to bring comfort to little ones. The creators grew up on Fidalgo Island, and after they lost loved ones on crab boats in the Bering Sea, they found comfort in the stories told by their Gram about the bunnies who live in her garden. From there, Fidalgo became the "Cricket Island" of their stories.
Bunnies by the Bay has the cutest stuffed animals affectionately known as lovies, baby dolls, buddy blankets, and more! They are accompanied by sweet stories and they are just as soft and cuddly as they look! It would be easy to see how any one of these items could be the stuffed animal a child attaches to for comfort throughout their life.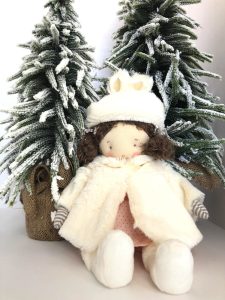 I love to read and know that some of the best bonding time you can have with a child is reading time. There is nothing more comforting than a bedtime ritual that includes a book, a song, and a prayer. That's why I love the idea of replacing greeting cards with books for baby showers. You just leave a sweet note for the little one and sign your name!
Bunnies by the Bay has wonderful books, and you can purchase the book and cuddly friend from the story to go along with it.  You can purchase A Pretty Girl is Pretty Inside to go with your "pretty girl" doll, as well as, Bun Bun and the Bun Bun book.
Not only do the items from Bunnies by the Bay provide sweet stories and comfort, but the company is "passionate about helping to create lasting change in our country and community," so they have partnered with some amazing organizations and provide a portion of their proceeds to one of a few different organizations that address childhood hunger, access to developmental play, and more! The following descriptions are provided by the Bunnies by the Bay website:
"Kaboom! works to achieve playspace equity, ensuring all children have access to creative and fun spaces to play, grow, and thrive!"
"Worldwide Orphans delivers programs focused on attachment, early intervention, health care, sport and the arts to communities and orphanages in Bulgaria, Ethiopia, Haiti, Serbia and Vietnam. By addressing the needs of the whole child, Worldwide Orphans giving kids strong bodies and the coping, social and life skills they need to be happy and successful in the future. Our products have been used for their toy libraries, where the Element of Play Program as made in difference in countess lives of children."
"The Children's Defense Fund Leave No Child Behind® mission is to ensure every child a Healthy Start, a Head Start, a Fair Start, a Safe Start and a Moral Start in life and successful passage to adulthood with the help of caring families and communities."
"Feed the Children is one of the leading antihunger organizations."
"No Kid Hungry is a national campaign run by Share Our Strength, a nonprofit working to solve problems of hunger and poverty in the United States and around the world."