Shop Seasons Gifts This Fall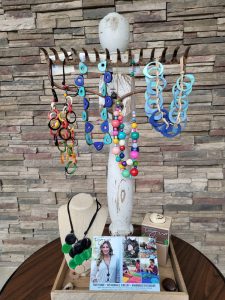 By Diane Poole
Many new baby and children's toys, puzzles, and gift items are now on the gift shop shelves in time for Thanksgiving or Christmas. Bunnies by the Bay and Sigikid stuffed animals continue to be popular items, and we have more coming in the end of October.
Buyers Sherry Mason-Brown and Kim Lentz have also acquired interesting new custom made jewelry from Tagua and Sylca Design, as well as Christmas Bird Seed cookies and snowmen. We now have custom made crayons, interesting games, the ever popular and colorful Oventure Key Rings, Neem Soaps or Tub Tea and so much more!
The Tagua Jewelry is made by women in Ecuador. They harvest tagua nuts, which helps in the preservation of the Ecuadorian rainforest. The jewelry is made from these nuts and for some, it's their only income.
Darrell Blackwelder has made pens out of wood from Israel. He can make pens out of any kind of wood you might have that would be sentimental to you. He can customize the pen clips, such as the beautiful crosses seen here. They come with a certificate of authenticity, signed by Darrell, and gift boxes are available.
Seasons Gifts will also be featured in the holiday issue of Salisbury Magazine. The shop will also have a market hut at Spencer's Winterfest, which will be the first two weekends in December.
The shop is now open on Sundays from 9-11 am; however, we are working now to expand the hours. Getting set up for online sales has been a challenge, but we are making progress. If you would like to volunteer in the gift shop, please contact Barbara Jo Corriher or Diane Poole.