Meet Our New Nursery Workers: Kaley and Emily Almond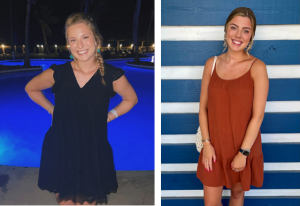 By Susan Shinn Turner
Sisters Kaley and Emily Almond are new nursery workers for the 9:27 and 11 am services.
After attending St. John's for some time, Emily and Kaley joined St. John's in August. Kaley has just started graduate school at Pfeiffer University, studying for a master's in occupational therapy. Emily is a senior at Carson High School and is applying to four-year universities. She plans to major in nursing and become a nurse practitioner.
Emily saw a sign at church about the need for nursery workers.
"I thought, oh, I could totally do that," she says. "I'd helped with VBS this summer, and then I got Kaley on board."
Kaley graduated from ECU and is now back in the area for graduate school. She grew up in Apex, where she was known as the "town babysitter," she says.
"I love to see kids laugh and smile when they warm up to you," Emily says.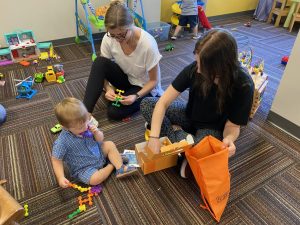 "We recently had a new little boy who was really nervous because it was his first time in the nursery," Kaley says. "But he was really comfortable by the end. Parents feel comfortable leaving their children, and they get a break to go to church. I love kids, too."
Both girls say the experience is rewarding and makes you feel good, and it's a good way to give back to the church.
Stacey Shafer, children's minister comments that faith formation doesn't have to take a back seat when you take a leadership role during worship, "Nursery volunteers and workers have the opportunity to learn about Jesus's love for his children through the eyes of children. "
"It's a good way to spend your Sunday morning," Kaley says.
Typically, the girls arrive between 9 and 9:15 am. If they are not needed for the 11 am service, they can leave by 11:15. Otherwise, they're done by 12:30 pm after they've finished cleaning up.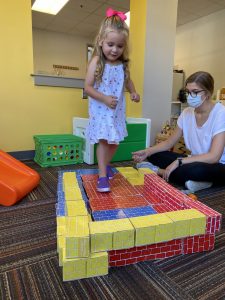 Away from school and church, the girls both enjoy hanging out with friends and family, shopping, and trying new coffee shops.
Kaley also enjoys walking her dog.
"I like to stay busy," Kaley says. "I do not like to sit around."
Emily also works as a server at Trinity Oaks Retirement Community. She's studying to be a certified nursing assistant.
The girls are the daughters of George and Amy Almond and the granddaughters of Rachel Safrit.
Stacey says that Kaley and Emily's passion and gifts have been a blessing to St. John's, and that she is always looking  for more volunteers like them to add to the team, "During nursery time, children are taught how God made them, God loves them, and Jesus wants to be their friend forever. If sharing Jesus' love with children brings you joy, then this is the place for you!"
If you'd like to serve in children's ministry or as a nursery worker/volunteer, please contact Stacey Shafer, children's minister, in the church office.