Greeting Cards and Positive Purchasing Power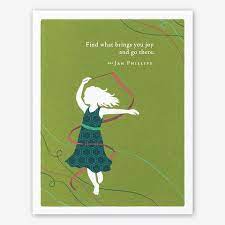 By Angel Owens
Last year, I read a lot of books, and by that I mean listened to a lot of books on Audible. A few of my favorites were from Shane Claiborne and the late Rachel Held Evans. A recurring message that I couldn't seem to shake was from Matthew 6:21, "For where your treasure is, there your heart will be also."
For the first time as an adult, I didn't read this in relation to charitable donations or time and talents. I began to think about where I am spending my money and ask the question, "Just how ethical are my buying habits?"
Since then, I've begun paying more attention to the impact of the palm-oil industry, environmental foot prints, fair-trade and fair-wage business models, and shopping locally or from woman- or black-owned businesses. One of my first steps was switching out some of the plastic disposable items in my bathroom– toothbrush, toothpaste, and soap bottles.
One of my favorite episodes of NBC's fictional series "The Good Place" gathers all of the main characters with the judge of the afterlife to discuss just how difficult it is to be a "good" person, by discussing ethical dilemmas of buying a single tomato. Judge Gen exclaims, "Humans think that they're making one choice, but they're actually making dozens of choices they don't know they're making."
Thankfully, instead of the point system of "The Good Place," we have grace, but it is important to consider how our decisions reflect the love of Christ and our faith-driven care for our community and world–Where will your heart be also?
Seasons Gifts helps me make easy decisions about where I spend on gifts— and helps me reduce the number of Amazon boxes in my recycling bin! I know that my purchases will support Senior Seasons ministries and companies with missions and visions similar to those of St. John's.
One item I love purchasing from Seasons Gifts is greeting cards! As I make a purchase to bring a light to the life of someone in my own life, I can be confident that my purchase is guided by conviction to care for our community and world.
Positively Green, Frank and Funny, and Love Muchly greeting cards are printed with soy ink on FSC®-certified paper using a press that gets its energy from wind power. Compendium also gives back to various non-profits throughout the year, including designating portions of the Positively Green cards to benefit organizations working to protect the environment.
Compedium, the greeting card company, shares their story on their website, "Our story begins with the simple question, what difference can we make in the world by sprinkling a bit of inspiration where we live, work and play? Excited to discover the answer, we started to dream up tangible ways to add unexpected delight to each day. Soon, our first pop-open cards were born —small window cards with thoughtful messages hidden inside. These powerful little cards quickly made their way around the world. Astronauts carried them into space and submarine crews took them to the bottom of the ocean. They were handed out to courageous response teams at Ground Zero. And they were given to teachers, cancer patients, and anyone who could use a spark of inspiration. Wherever these little cards showed up, they uplifted spirits and warmed hearts. Thirty years later, millions of our joyful messages have touched the lives of people around the globe and we've discovered that a bit of inspiration can, in fact, make a big difference! Through our products, we hope to create opportunities to sprinkle goodness around you— and make the world a little brighter."