Paula Levianu is Named St. John's CDC Director – Welcome, Paula!
By Susan Shinn Turner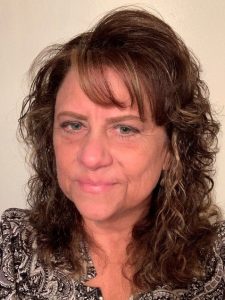 On June 14, St. John's Child Development Center welcomed a new executive director.
"Everything is going well," says Paula Levianu. "I'm focusing on staff and maintaining what's going well. They are very tired from the pandemic. They have worked so hard. I want to focus on being a team and stabilize the staff we have."
Paula is in the process of hiring more staff, and there is a waiting list for the CDC.
Paula moved to Salisbury from Pennsylvania and has just gotten settled into her new apartment. She applied for the job through Indeed.com, and had phone and video interviews before her in-person interview. Paula's sister and her family live in Graham, and that plus the lure of warmer weather was an irresistible combination.
"Every time I would come to visit," she says, "I thought, why am I not living down there?"
Paula says that the staff and church have been very welcoming. "I'm impressed with the heart that's behind the staff. They're here for the children and families, and that's the right reason."
Paula has 30 years' experience in early childhood care and education. Ironically, she says, she's worked at a St. John's before. She taught fifth through eighth grades at St. John the Baptist Catholic School. She's worked in quality control for childcare centers. She's also worked with the Pennsylvania quality rating system for childcare centers. It is similar to North Carolina's in that it uses the star rating system. She's worked in childcare centers, been the designator for the rating system, and has supervised designators.
"I feel really comfortable with what's expected at a 5-star quality level," Paula says. "If we have a sound foundation and do what we are supposed to do day to day, we'll be able to quickly maintain a high quality of care. If the processes and policies are in place to be sure the quality is there, it runs on its own. You just have to make sure it continues. Staff is already on a roll with what needs to happen. I just want to fine tune at this point."
Paula says she is impressed with how the staff, church and families are willing to work together. "I am absolutely thankful for that."
The late Dr. Shirley Ritchie founded the CDC. Her vision of what it should and could be continues today, Paula says. "The staff continues to make a difference. The love of early childhood care makes a huge difference."
Paula was a senior in high school when her school ran a pre-school three days a week. As a freshman in college, she thought she wanted to be an interior designer, but one class changed her mind.
"I did a lot of soul searching and decided to look into it," Paula says of her chosen field.
She's currently at work on a master's degree in Early Childhood Studies: Administration, Management, and Leadership.
"Challenges are important to me," Paula explains. "They keep me motivated and keep me going. I'm driven by challenges. If I'm the director of a childcare center, I want the degree to back it up."
Paula has a daughter, 24, who works at an animal shelter in Pennsylvania.
Away from work, Paula enjoys being in nature, especially kayaking with her miniature dachshund Lucy, 12.
"She's still pretty spry," Paula notes.