Providing tablets and cell phone data for students in Guatemala – "COVID-19 has not been good to Guatemalans."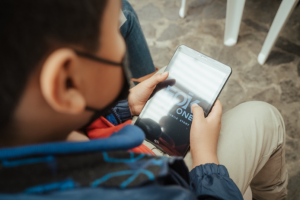 By Hannah Nadeau Girón, Escuela Integrada Director
In Guatemala, the already-challenging economic situation became much worse with the onset of the pandemic in March 2020. Quite simply, COVID-19 has not been good to Guatemalans. Because of the pandemic, children have been attending school from home for almost two years, since the academic year in Guatemala begins in January and ends in October. Since less than 4 percent of Guatemalans are vaccinated, our students will continue learning from home for the rest of this year, and likely for next year as well.
But how do you teach and learn remotely when the vast majority of our families do not have access to a device or WIFI? To support the children's continued learning, we are raising money during the months of July and August to purchase tablets and cell phone data packages for the kids to use during at-home learning. A tablet costs $105 and cell phone data costs about $26 per month. With these two items alone—an educational tablet and cell phone data—the kids are able to participate in live lessons with their teachers and complete assignments.
A benefactor has agreed to match all donations up to $3000. If you donate $105, one tablet automatically becomes TWO tablets, and if you donate $26, one month of cell phone data becomes TWO months! To learn more or to support this effort, please visit http://wearegraces.org/tablets.
For general information about GRACES or Escuela Integrada, please visit our website www.wearegraces.org. You can also email us at info@wearegraces.org with any questions!