A sense of family: Grace Faller finds her place at St. John's and beyond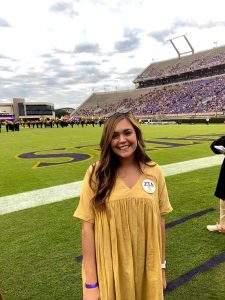 By Susan Shinn Turner
Grace Faller, a rising junior at East Carolina University, has recently begun a summer internship in Chicago. She'll be working as a food and beverage intern at a country club.
"I'll be getting a ton of experience with this paid internship, as well as free living accommodations," says Grace, the daughter of Gene and Ann Faller and a 2019 graduate of East Rowan High School.
The hospitality management major began work May 19 and will return to Greenville in August. Her sister, Faith, just graduated from Lenoir-Rhyne University.
At St. John's, Grace has been an active member, singing at the 9:27 service and being involved in youth when she was in middle school and high school. She was baptized and confirmed at St. John's.
"It's hard to find a church that compares to St. John's," Grace admits. "There's a sense of family there."
Grace, who turns 20 on June 8, participated in mission trips to Guatemala as well as national youth gatherings in Detroit and Houston. She and Victoria Plyler created a mission trip wall in the Fuel room.
"Those opportunities have been something I'll never forget," Grace says. Her previous youth leaders, Pastor Danielle DeNise and Kai Thurow, as well as Bradley Chestnut, previous contemporary worship leader, have had a "huge impact on my faith journey, and gave me the tools I needed to transition to college. I had my moments where I felt a little lost, but I feel so grounded and centered at the 9:27 service. God is not going away. He's not going anywhere."
Her friends at ECU have reminded her of that, and encouraged her to join a Bible study.
"Grace's leadership ability was such a huge asset to our youth group," Pastor Laura says. "It was obvious that she has a deep faith and she had a big role in youth ministry, LYO, and getting everyone involved. Anytime we needed anything, she was willing to organize and find people to help accomplish our goals. In addition, she is always willing to step up and help with the 9:27 service, using all the gifts that God has given to her."
Grace is used to being at church, whether that was going to the 9:27 service, youth meetings, or on congregation council as a youth representative. Grace also served on the state Lutheran Youth Organization (LYO) board.
At ECU, she's a member of ZTA sorority and the Panhellenic Bible Study. She's also a member of the homecoming committee and the Rotaract Club, the college-based version of Rotary.
Best of luck on your summer internship, Grace! We'll see you back at St. John's this fall.