A Hymn for Trinity Sunday, May 30: Holy, Holy, Holy, Lord God Almighty (ELW #413)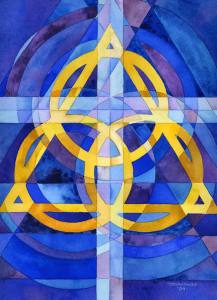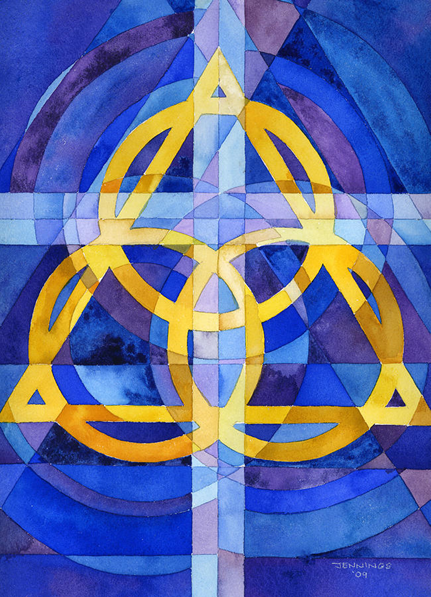 By Rob Durocher
Minister of Worship and the Arts, Deacon
True story— MANY years ago, my brother Chris and I were sitting in church enjoying the congregation's singing of the glorious hymn, Holy, Holy, Holy! We both did our best to sing along, young as we were (because back then it was cool to pretend you knew what you were doing!) but that was until the final stanza when out of the blue we were blasted by a powerful voice sitting behind us (I believe it was Mrs. Audrey Snow!) singing a descant (an independent treble meoldy sung or played above a basic melody) at the top of her lungs which made us both look at each other first in a bit of shock and then causing us both to burst out in laughter uncontrollably much to the consternation of our parents and disapproving looks by a few others sitting in front of us. It was a good thing that the others surrounding us were taken up by the words, the beauty and familiarity of the melody and the grandeur of the organ's accompaniment! Chris and I still get a chuckle out of this 50+ years memory!
Several years later not having forgotten that experience, that same descant came pouring out of a choir's soprano section as this hymn of the day was sung. This time my reaction was very different! As I listened to the words being sung with this descant superimposed over the melody, my heart leaped for joy as text and music came together! 
Holy, holy, holy, Lord God Almighty!
All thy works shall praise thy name in earth and sky and sea! (from verse 4)
Although it can be considered a 'general hymn' that can be sung most any time of the year, traditionally, Holy, Holy, Holy was written for the Festival Sunday of the Holy Trinity (which we will observe on Sunday, May 30, 2021.) The Festival of the Holy Trinity always immediately follows the Sunday of Pentecost. Celebrated as early as the 10th century AD, in 1334, Pope John XXII approved the Festival of the Holy Trinity for the whole church and its importance began to spread through all of Europe. Observance of Holy Trinity Sunday boldly reminds us that we worship and glorify Father, Son and Holy Spirit – One God in three persons – a blessed Trinity.
Since the mid-late 1800's the Christian church throughout the world has been singing the amazing hymn, Holy, Holy, Holy, Lord God Almighty. The inspiring hymn text was written by Reginald Heber (1783–1826), who was a parish priest in the village of Shropshire, England and then later in 1823 was consecrated as the Anglican Bishop of Calcutta, India.
Dr. Heber was an esteemed Biblical scholar whose ministry spanned continents and many different peoples. Heber is considered one of the heroes of our faith, having written many hymn texts and preached all over the world. His writings and teachings emphasized the timely principals of our faith: that God is three in One, God is the Most Holy and God's creation reflects his eternal glory.
The holiness of God was the catalyst for Heber in penning the words to this hymn. His experience working in areas where vice and misfortune were prevalent and especially in Calcutta where the people were prone to worshipping other deities and idols would remind him that God was merciful and mighty and worthy of our praise from morning to sunset.  In verse one, Heber writes the following lyrics: 
Holy, Holy, Holy, Lord God Almighty!
Early in the morning our song shall rise to thee.
Holy, holy, holy, merciful and mighty!
God in three persons, blessed Trinity.
He clearly refers the prophet Isaiah's vision of heaven where he sees the angels and the seraphim bowing down to worship God (Isaiah 6:3): 'And one cried unto another, and said HOLY, HOLY, HOLY, is the LORD of hosts: the whole earth is full of his glory.' The great theologian John Wesley wrote of this passage of scripture: "Singing in consort. Holy – This is repeated thrice, to intimate the Trinity of persons united in the Divine essence. Glory – Of the effects and demonstrations of his glorious holiness, as well as of his power, wisdom, and goodness." Heber echoes Wesley's commentary in his first verse of the hymn!
In the second verse, he also refers to Revelation 4:6-9 where in images of a 'sea of glass', the 'elders and the saints' and six- winged living creatures all fall down before God Almighty to bring him worship and praise as they cast their crowns before his feet.
Holy, holy, holy! All the saints adore thee,
Casting down their golden crowns around the glassy sea;
Cherubim and seraphim falling down before thee,
Which wert and art, and evermore shall be.
Once again Heber begins this verse with what is called in Greek the Trisagion (thrice Holy) invoking the Trinity adored by all the saints worshipping God who was, and is and is to come! Heber encourages us in his text to 'join in' with the saints and angels in singing an endless song!
In the third verse of Heber's hymn, he carefully describes the Trinity without 'encroaching upon its mystery' when he writes:
Holy, holy, holy! Though the darkness hide thee,
though the eye of sinful man thy glory may not see,
only thou art holy; there is none beside thee,
perfect in power, in love and purity.
This is evidenced with the phrase, "though the darkness hide Thee" and we're reminded that our sinfulness exacerbates the separation from God and man ("though the eye of sinful man thy glory may not see"). We may not completely understand or 'see' the Trinity in its fullness in this lifetime, but those are not reasons that preclude our worship of the Triune God. Heber wrote: "We have a friend and protector, from whom, if we do not ourselves depart from Him, nor power nor spirit can separate us. In His strength let us proceed on our journey, through the storms, and troubles, and dangers of the world. That same is He who liveth, and was dead; who is alive forevermore; and hath the keys of hell and of death." There is no one like our God who is perfect in power in love and in purity.
Finally in verse four it all comes together when Heber refers to Psalm 145:10 (All your works shall give thanks to you, O LORD, and all your saints shall bless you!)
Holy, holy, holy! Lord God Almighty!
All thy works shall praise thy name, in earth and sky and sea.
Holy, holy, holy! Merciful and mighty,
God in three persons, blessed Trinity.  
"Holy, Holy, Holy" gives the faithful in Jesus Christ the opportunity to elevate our minds as we hear the angel's words as read in God's word, and inspires us to experience God's mercy and love and to surrender our hearts to him. The hymn inspires us to raise our voices in proclaiming with the saints and angels to all the world that God is Father, Son, and Holy Spirit!
Reginald Heber died in 1826 from a sudden stroke while he was ministering in Calcutta, India at the age of 42. His hymn "Holy, Holy, Holy" was first published in the year of his death in A Selection of Psalms and Hymns for the Church of Banbury. Perhaps the mastery of this hymn is found in the beautifully simple tune written and harmonized by The Rev. Dr. Johns Bacchus Dykes (1823-1876), who held a Doctorate in Music and who took Holy Orders in the Church of England. He was a Precentor and Organist/Choir Master at Durham Cathedral. His tune NICEA, named after the Council of Nicea where the nature of the Holy Trinity was shaped theologically, has a unique elegance and magnificence that both compliments and accompanies Heber's 'stately language.' Bacchus' tune is also an example of Victorian hymn writing with subtlety and solid harmonies.
Since the hymn's inclusion in Bacchus' Hymns Ancient and Modern in 1859, Heber's hymn, Holy, Holy, Holy has spanned many Christian traditions and centuries, uniting them in four timeless stanzas and has found its home in our hearts and thousands of hymnals throughout the world!