First Look "Bloom" Fundraiser: Help us revamp the First Look space this May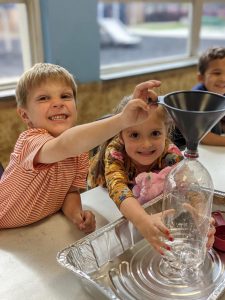 By Susan Shinn Turner
For the First Look children at St. John's ages birth to 4, it's time to Bloom!
Bloom is a fundraiser to revamp the First Look area, according to Stacey Shafer, children's minister.
The Epic classroom for third- to fifth-graders and the First Look area will switch spaces. "Because of the numbers and activities 3- and 4-year-olds do, we need more space.
The revamped space will include a Bible story area and a video/dance area. Stacey also needs age-appropriate tables and chairs for story time and crafts, and painted walls that welcome kids into the love of Jesus.
"Part of the fundraiser is receiving donations to purchase supplies," she says.
You can also go to amazon.com to purchase items directly. Search 'Stacey Shafer' under Custom Gift List.
CLICK HERE to access the Amazon wishlist.
Items purchased from the amazon wish list will be shipped directly to the church.
The fundraiser will take place May 2-30. Children's Ministry team members will set up an information table before and after the 9:27 and 11 am services during May.
Donations can be made online at stjohns-salisbury.org by writing Bloom in the description box or by check with Bloom written in the memo line.
She is optimistic about the fundraiser's success.
"We'll just see what happens," she says.
The Children's Ministry Team includes Barbara Jo Corriher, Jennifer Gebhardt, Rosalind Hines, Stephanie Payonk, Stephanie Roseman, and Meredith Williams. Penny Moss is council representative.