Shop with a Mission: Celebrate Earth Day with These Items that Care for God's Creation
By Susan Shinn Turner
When you shop at Seasons Gifts, you shop with a mission.
"Our goal is to offer unique gifts that bring joy and beauty to our lives, and the lives of others, by partnering with companies that promote fair trade, social responsibility and justice," says Sherry Mason Brown, one of the buyers for our gift shop. "We offer products from organizations in partnership with St. John's Lutheran Church and those who support other mission related endeavors."
Beginning this month, you'll read about ministries behind the gifts.
Earth Day is April 22, so this month we are highlighting products and companies that have a commitment to Creation Care!

Just Neem
Just Neem is a natural skincare line. Here is Just Neem's story, according to its website, justneem.com.
Just Neem helps people find healthy and vibrant skin with natural, plant-based products. Our secret ingredient is Neem! Using the Neem tree, we've created a product that clears your skin naturally. When your skin is healthy, you feel confident and ready to take on the world!
Since 2007, the Just Neem Orchard has been sustainably operated in Mauritania, West Africa, and our source of Neem. We're proud to provide living wages to the farmers that work here and contribute to their community. Our orchard is environmentally friendly, and planting hundreds of Neem Trees in this hot, dry climate has helped mitigate the devastating effects of desertification and reduce carbon dioxide.
Our top priority is to develop and sell high-quality, plant-based products that give our customers healthy, happy skin. We take great pride in the quality and effectiveness of every product while using the highest grade, natural ingredients.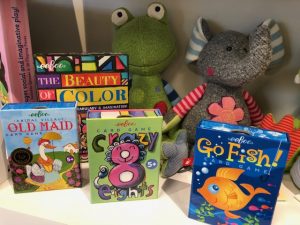 eeBboo
eeBoo is woman owned, family ran, and sustainably sourced. Family and community are the heart of this company and their puzzles and games.
The founder shares the inspiration behind the products on their website, "We wanted to encourage creative thinking, open ended play, and meaningful communication in the products we developed. Telling stories with our children, finding interesting objects innature, and working on crafty projects together informed and inspired what is now the eeBoo line."
Reduce, Reuse, Recycle. eeBoo is committed to sustainability. They never use unnecessary packaging. The puzzles and games are printed using vegetable inks on super thick (90%)recycled gray board, so once your family has mastered a game you can pass it onto someone else.
In April, make sure to check out other products that prioritize creation care through sustainability, like Compendium Greeting Cards, Charlies Vianicn lids, and St. John's Creation Care mugs.
If you'd like to shop at Seasons Gifts, please call 704-636-3431 ext 223 to shop virtually with a personal shopper or in-person by appointment. Check the Seasons Gifts Facebook page for upcoming live shopping events, facebook.com/seasonsgifts.sjlc