Thine is the Glory: ELW 376 A Hymn of Easter Triumph!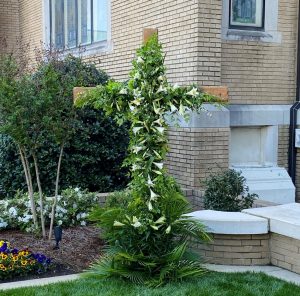 By Rob Durocher
Minister of Worship and the Arts, Deacon
There are some hymns that just make our worship experience on Easter Sunday complete. Among these are the hymns Jesus Christ Is Risen Today, and Now All the Vault of Heaven Resounds, but one of the most triumphant hymns of Easter was gifted to us by a theologian and pastor, born in Vevey, (near Lausanne) Switzerland named Edmond Louis Budry, (1854-1932). Budry was ordained in the Free Church of Switzerland and was fluent in many languages using this ability to translate hymns from German, English, and Latin into French. In 1884, he wrote Thine Is the Glory, (À toi la gloire, O Ressuscité!) a hymn that came from his own heart.
The English text that we sing today was translated in 1923 from French to English by Pastor Richard Birch Hoyle (1875-1939), a Baptist minister from Lancashire, England. In 1885, Thine Is the Glory appeared in Evangelical Songs (Cantique Evangelique), and later, the hymn appeared in the World Student Christian Federation's songbook, Cantate Domino in 1924, giving it greater exposure in parts of Europe and spreading in the United States to become a favorite hymn for Easter a generation later!
It was thought that Edmond Budry wrote this hymn in response to the death of his wife. Their faith assured them that her death was not the end – and that there was a final victory because of the resurrection of Christ Jesus. His inspiration in writing his text, according to English hymnologist J. Richard Watson, was based on the story of Christ's resurrection as found in the Gospels as well as the Apostle Paul's writings from I Corinthians chapter 15. Budry's embrace of the phrase 'endless is the victory thou o'er death has won' comes from I Corinthians 15:57 where Paul says, "But thanks be to God who gives us the victory through our Lord Jesus Christ
Thine is the glory, risen, conquering Son;
endless is the victory Thou o'er death hast won.
Angels in bright raiment rolled the stone away,
kept the folded grave-clothes where Thy body lay.
Budry's hymn also refers to I Corinthians 15:54-55 "Then shall be brought to pass the saying that is written, death is swallowed up in victory. O death where is your sting? O grave where is your victory?"  The first two verses reminded Budry that on that first Easter day, Mary, Peter and John were in utter despair and grief at the loss of their Lord following his crucifixion but as the hours of that day passed their encounters with an empty tomb, folded grave- clothes and the risen Jesus took them from the sting of death to one of joy which was filled with a new found confidence, hope and faith for a future that would be spent with their risen Lord.
Lo, Jesus meets us, risen from the tomb.
Lovingly He greets us, scatters fear and gloom;
let His church with gladness hymns of triumph sing,
for the Lord now liveth; death hath lost its sting.
Budry believed and preached that our risen Savior transforms lives, just like he did to the disciples that first Easter morning, and even a little later in his encounter with a doubting, skeptical disciple like Thomas who wanted incontrovertible proof that Jesus really was risen from the dead. Thomas got his proof when Jesus told him to stop doubting and believe. After seeing the scars in the hands and feet of the risen Jesus Thomas cried in recognition, my Lord, and my God! (John 20: 24-29)
No more we doubt Thee, glorious Prince of life!!
Life is nought without Thee; aid us in our strife;
make us more than conquerors, through Thy deathless love;
bring us safe through Jordan to Thy home above.
Budry's mentioning of the Jordan River in the final verse of his hymn as a crossing place to the promised land also reminds us of the Israelites in the wilderness who would eventually cross over Jordan into safe Canaan, and we too one day will cross into the promised land because of our risen, conquering Lord because of the victory that Jesus won for us!  "The message of this hymn is all about Jesus having broken down the barriers of sin that separate us from God, thereby enabling us to pass over the spiritual Jordan into the promised land of heaven." (Geoffrey Foote)
The tune to which we sing Thine is the Glory to was adapted from a triumphant processional song written by the great composer George Fredrick Handel (1685-1759), originally found in his Oratorio, JOSHUA, but later used in his Oratorio, JUDAS MACCABEUS, especially in the chorus, "See the Conquering Hero Comes!" Handel's tune 'MACCABBEUS' brings vitality to the triumphant nature of Budry's hymn, Thine Is the Glory! As Budry wrote his hymn lyrics he most likely had already embraced Handel's tune to be the musical vehicle to convey his powerful hymn text because it perfectly celebrates the story of the Resurrection, verse by verse, reminding us that Jesus has won an endless victory for you and for me!
So perhaps, the very heart of this glorious Easter hymn is the simple but always powerful refrain: 'Thine is the glory, risen, conquering Son; endless is thy victory thou o'er death has won!' It is because of our risen Savior who conquered death, hell and sin that we can sing hymns of Easter triumph and hymns of Easter joy because of his deathless, eternal love. Hallelujah!