O Sacred Head Now Wounded- A Hymn for Holy Week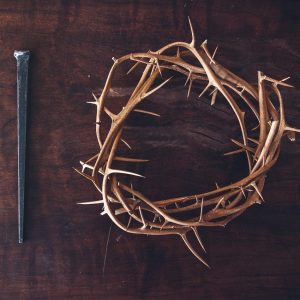 By Rob Durocher
Minister of Worship and the Arts, Deacon
(Evangelical Lutheran Worship #351)
O sacred Head, now wounded, with grief and shame weighed down,
Now scornfully surrounded with thorns, Thine only crown;
O sacred Head, what glory, what bliss till now was Thine!
Yet, though despised and gory, I joy to call Thee mine.
There is a place in our Good Friday worship when the heavy, burdensome cross is carried down the aisle in silence. That cross is laid upon the ground while the sounds of a hammer driving nails into the cross with loud blows. One simply shudders as we're suddenly reminded of those nails piercing flesh! As the heavy cross is loudly dropped into a stand symbolizing the cross hole on Calvary's hill we can just imagine the precious body of our Savior enduring the agony of those moments as he hung on the cross to die because of own our sinful disobedience and on our behalf his sacrifice on the cross would pay the penalty for our sin.
The heart- rending hymn, O Sacred Head, Now Wounded, puts us at the foot of the cross as we sing of Christ's suffering body in vivid and frequently gory detail. Perhaps no other hymn of Holy Week stirs our emotions as this lyrically and musically beautiful hymn does! A hymn that started out as a cycle of poems being attributed to both St. Bernard of Clairvaux and Arnulf of Louvain.
St. Bernard of Clairvaux, (born Bernard de Fontaine) was an 11th century 'Doctor of the Church, Abbott of Clairvaux of the Roman Catholic Cistertian Order. He was the son of a Crusader knight and in his years of serving the church he was called, 'the silencer of heresies', 'the counselor of popes', 'the umpire between princes and kings', and was thought to be the author of at least one crusade. St. Bernard was also greatly respected by the great 16th century Reformer of the Church, Martin Luther.
Arnulf of Louvain (died in 1276) was a monk of the Cistercian Order and an Abbott in Villers-la-Ville, Brabant, (Belgium). Although very little has been written about him, he was known for his piety and mysticism who was opposed to the 'scholasticism' which was being implemented in the region because it seemed to be destroying mystical and prayerful life. In his latter days he devoted himself to simple prayer and study.
Although this 'hymn' has been attributed to both St. Bernard and Arnulf of Louvain, tradition going back as far back as 1450 strongly suggests that St. Bernard is the author. From his long medieval poem, Rhythmica Oratio comes the 'Salve mundi salutare' from which O Sacred Head, Now Wounded, is based upon. St. Bernard writes in seven sections about Christ's body, as he suffered and hung on the cross. Each section or verse addresses a part of Jesus' body; his head, his heart, breast, side, hands, knees and feet. This was written in this fashion with the purpose that one verse would be said or sung during each of the seven days of Holy Week. (To The Suffering Face of Jesus Christ) The hymn that we sing today is a translation of the seventh section 'Salve caput crucentatum', that focused on the 'sacred head' of Jesus. This poem first appeared in an anonymous Latin manuscript from the 14th century.
By the middle of the 17th century this poem became a hymn ready to be sung! Paul Gerhardt, (1607 – 1676) a German Lutheran pastor and author of hymns from Saxony, Germany, has been accredited with translating the cycle of poems of St. Bernard from Latin into German making it into the deeply personal hymn that it is today. Gerhardt experienced much pain and loss in his life; he and his parishioners lived in the era of the Thirty Years' War, and he lost his wife after a prolonged illness, and four of his five children died young.
Gerhardt's entitled this hymn "O Haupt voll Blut und Wunden,  (O head full of blood and wounds) and originally had ten verses. Due to life's experiences, Gerhardt wrote in a way that made his hymns 'more objective, confes­sional, with a corporate focus to a piety, as well as being devotional, and personal. His hymns were written for the liturgical year and for intentional use throughout an entire worship service and were usually very lengthy. Gerhart was responsible for writing more than 130 published hymns over time and some of these were made famous by notable hymnists, John Wesley and Catherine Winkworth.
By the early 19th century Gerhart's German translation of 'O Sacred Head', was translated once again into English by American Pastor James Waddell Alexander (1804-1859), a Presbyterian preacher, teacher and writer. James Alexander, who was also a professor of ecclesiastical history at Princeton Seminary had a passion for translating hymns from Greek, Latin and German, but he is mainly remembered for his scholarly translation of O Sacred Head, Now Wounded.
The beautifully haunting hymn tune that we sing this hymn to today uses the title: HERZLICH TUT MICH VERLANGEN.  (I do desire dearly) which was originally a German hymn for the end of life, with words written in 1611 by Christoph Knoll with a melody adapted from a secular song by Hans Leo Hassler (1564-1612). Hassler was born in Nuremberg, Germany and studied with Andrea Gabrielli in Venice, Italy. He was a prolific composer for both the German Lutheran and Roman Catholic church and composed both sacred and secular music. His name for this tune was composed as a love song, 'Mein G'mut ist mir verwirret', (My Mind's Confused Within Me).
Johann Sebastian Bach (1685-1750) harmonized Hassler's tune and used it in several of his works. It is this setting that is most often used in our North American hymnals. The choral setting found in our Evangelical Lutheran Worship book was adapted from one of Bach's settings of this tune found in his monumental Passion According to St. Matthew.
Perhaps it is when we sing the third verse of this great Passiontide hymn that the fullness of our own sense of brokenness and yet unfettered gratitude for what our Savior has done for us – his bearing abuse, immeasurable pain and anguish, suffering humiliation,  being crowned with thorns, and violently pierced in his side where sorrow and blood flowed mingled down – and finally dying on that cross, where our heart finally opens its floodgate and expresses in wonderment:
What language shall I borrow to thank thee, dearest friend,
For this thy dying sorrow, the pity without end?
Oh, make me thine forever, and should I fainting be,
Lord, let me never, never outlive my love for thee."
There is no language or action that we can borrow and do to thank him enough! The Good News is that it is Christ's work, not ours that saves us since we are only required to bring our devotion and faith to him, 'who died, and who is risen so that we too can live!'