Healthy Choices at the Child Development Center: Melissa Lamb joins the CDC as new cook
By Susan Shinn Turner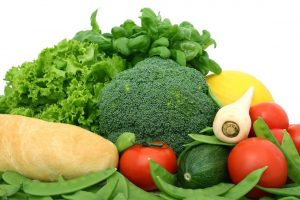 Just as the Outdoor Learning Environment will provide children with fresh air and exercise, the St. John's Child Development Center's Advisory Committee wants to make children healthier on the inside, too.
The center, which serves 140 children daily, provides breakfast, lunch, and an afternoon snack.
"It has been a goal of our committee to improve the nutritional value of the meals and snacks being served at the CDC," says Barbara Jo Corriher, one of those committee members.
A new cook, Melissa Lamb, started in February. The CDC has also changed its food vendor to Performance Food Service, and is pleased with the change, Corriher says.
Lonna Richardson has begun working with Teresa Mowery, an RN who works with a local program used to improve nutrition and physical activity in the child care setting. Mowery can also provide healthy recipes for the CDC.
"The CDC has already made some improvements by trying to move from canned foods to fresh or frozen," Corriher notes. "The children often are served fresh oranges, apples, blueberries, melons, cucumbers, and carrots. They now serve water instead of juice, and 1 percent milk instead of whole. When possible, they are serving whole wheat grains instead of white, and ground turkey instead of ground beef."
"Our plan is to connect the playground to healthy eating, too," Richardson says. "We will grow the vegetables and then they'll get a chance to taste them."
Corriher is working on gathering healthy suggestions and simple recipes, while keeping in mind kid-friendly foods and recipes that are cost effective and may be prepared in a timely manner.
"The cook makes baby food daily for the infants," Corriher adds. "Serving whole foods versus processed will certainly be a goal."
She continues, "To assist with the preparation of more nutritious foods, the CDC kitchen needs equipment. The administrative team will research the most advantageous tools for the kitchen.  Currently they only have a small food processor, so this is an area where we hope to make improvements. The CDC kitchen will possibly be renovated during G2G phase 2. The G2G plans allow for the storage of more fresh fruits and vegetables and more storage for frozen fruits/vegetables. The G2G plan would also allow for more prep area."
If you have recipes that would meet the CDC criteria (healthy, child-friendly, cost-effective, timely in preparation, and no nuts, including almond milk), please email them to Barbara Corriher at dbcorriher@ctc.net.