The Other Side of the Wall Study with Pastor Munther Isaac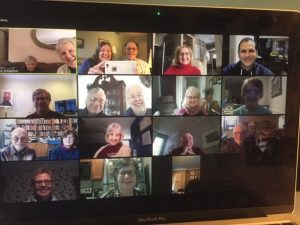 By Susan Shinn Turner
More than two dozen members of St. John's and residents of five other states participated in a recent four-week Bible study, The Other Side of the Wall, led by author Munther Isaac, pastor of our sister congregation in Bethlehem, Christmas Lutheran Church.
Each week, the group discussed two to three chapters of Isaac's 10-chapter book. He encouraged participants to "look through the lens of being peacemakers," said B.J. Connor, who was a part of the group along with her husband, Michael.
Isaac and his wife, Radaina, feel called to stay where they are, even though many Palestinian families are leaving.
"What we wait for is what we work for," he said.
Each session opened with Isaac giving a brief talk, followed by participants' insights, questions, and answers.
"We love Pastor Munther," B.J. says. "He stayed at our house and we've had lunch at his house. I think it's a super important book, and it's definitely a narrative Americans don't hear enough or seek out enough."
Michael Connor has traveled extensively in the Holy Land since 2012. He and the group heard first-hand stories about what Isaac and his family have experienced.
"The book has given me a much deeper understanding of lamentation and hope — how hope is an active concept versus a passive concept," Connor said.
Isaac's family, too, has been affected by the pandemic. His mother and sister have both had Covid, and his two sons cannot go to school. Though Israel has already vaccinated a vast majority of its citizens, there is no specific plan for vaccinating those in the Palestinian territories. Munther estimates that they are 6-8 months behind the United States as far as receiving it.
"It's a good book and it was a good discussion," Mike said. "Having the author lead the discussion was particularly powerful."
Roger and Linda Hull also participated in this study.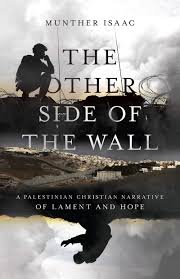 "It's always good to hear other voices," he said of the folks from other states and denominations who participated.
This study, he said, "reaffirms what these people are facing every day. We need to support Bright Stars of Bethlehem and Dar Al-Kalima University College of Arts and Culture."
The Hulls were part of a group from St. John's who visited the Holy Land in 2015.
"If you ever go, take a tour with a Palestinian guide," he said. "You'll see the other side of the story."
Jay and Meg Dees had signed up for an upcoming trip to the Holy Land hosted by St. John's, which has since been delayed. They wanted to participate in the study to prepare for that trip, he said.
"Our group was already well versed in theology, geography, and history," he said. "For us, it was more about learning from scratch. It was really interesting to get the personal perspective that Munther brings.
"It was a great background history of the geopolitical scene and the theological scene presented through the eyes of a Palestinian."