Bradley Chestnut Accepts New Call in Bluffton S.C.
By Susan Shinn Turner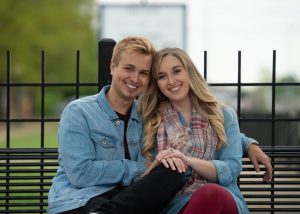 Bradley Chestnut, St. John's contemporary worship leader since 2016, will become worship leader/pastor at Live Oak Church in Bluffton, SC, near Hilton Head. He starts March 15, and his last Sunday at St. John's is March 14.
"It's stressful but exciting," says Chestnut, a native of Myrtle Beach, S.C. "Caitlin and I will be moving 30 minutes farther from my parents and three hours farther from hers."
Chestnut received his master's degree in divinity from Wake Forest Divinity School in December 2020 and was ordained Jan. 3 at First Baptist Church in Myrtle Beach, his home congregation.
In what Chestnut calls the "Great COVID Reformation of 2020," he says, "It's a good time for us to make a change."
His new job will essentially include the same responsibilities he had at St. John's, but with a different twist, he says. "Live Oak is about the same size but it's a lot younger congregation. They are in the middle of a building campaign, too."
He continues: "Caitlin and I had to look toward the future, to buy a house and have a family someday," he says. "We just prayed about it and this opportunity came up."
Caitlin will keep her same job as a senior risk and compliance consultant for a firm in Charlotte. She works remotely, but will attend a meeting onsite every quarter, which gives the couple a chance to visit her parents in Hickory.
"We came home from our honeymoon on a Tuesday and had no idea any of this was happening," Chestnut says of the shutdown. "She hasn't been back to the office since."
The St. John's role was Chestnut's first full-time church job, although he'd worked in other congregations.
"I realized how caring people can really be," he says of his experience at St. John's. "To see the 9:27 service thrive is integral to that space. I'm gonna miss the collaboration and camaraderie. My heart and soul is in that service."
When Rob Durocher first interviewed Chestnut, he found him to be personable and someone with a servant's heart.
"It wasn't just, let's sing a few songs on Sunday morning," Durocher says. "He took his responsibilities for contemporary worship very seriously. He built relationships first, and he brought a new energy and fresh ideas. There's no doubt he cared very deeply for the people he worked with at 9:27, and there's no doubt we learned from him.
"We just truly wish him and Caitlin all the best in their new ministry," Rob adds.