The Other Side of the Wall Book Discussion: Led by Pastor Munther Isaac, Jan. 25– Feb. 15, 12pm via zoom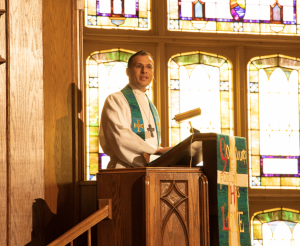 By Mike Connor
When faced with life challenges, how do we embrace suffering? What does it mean to hope when there is "no end in sight"? How does God's covenant to Abraham relate to today's world?
If you're interested in these questions and/or learning more about marginalized life in the West Bank, we invite you to participate in a book discussion beginning Monday, January 25, 2021, at noon. As part of the St. John's covenant relationship with Christmas Lutheran Church in Bethlehem, Rev. Dr. Munther Isaac will be leading a discussion of his most recent book, The Other Side of the Wall: A Palestinian Christian Narrative of Lament and Hope.
"This book is my invitation to you," Pastor Munther writes, "to step into the other side of the wall and listen to our stories and perspective. It is my humble request to you to allow me to share how Palestinians experience God, read the Bible, and have been touched and liberated by Jesus―a fellow Bethlehemite who has challenged us to see others as neighbors and love them as ourselves. . . This book paints a picture of our story of faith, lament, and hope. And I invite you to join and listen, on our side of the wall."
Pastor Munther will facilitate four Zoom discussions. The sessions are scheduled at noon Eastern Standard Time to accommodate the time zone difference. The dates and discussion topics are as follows:
January 25 – Palestinian Christian Community
February 1 – Christian Zionism, Bible, and the Land
February 8 – Jews and Muslims as our Neighbors
February 15 – Peacemaking and Hope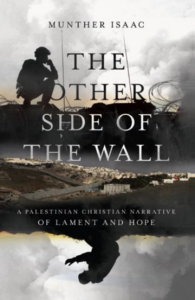 Participants are asked to have read the pertinent book sections prior to each weekly discussion. The Other Side of the Wall is published by InterVarsity Press and is available for purchase on amazon.com and ivpress.com.
Register online and contact Mike Connor (mjconnor1982@gmail.com) for more information.
To make the most of the book discussion, registration is limited to 12-20 participants. Priority registration is given to St. John's members, but registration will open up to other groups on Dec. 15, so register early!
"The distinct suffering of Palestinian Christians needs to be heard, felt, and lifted up, not least before the minds and hearts of many American evangelicals. The pain some American Christians have added to the lives of Palestinian Christians has further ravaged the dignity and value of our beloved Palestinian brothers and sisters. Munther Isaac's clear, passionate, honest rendering of this ignored and distorted narrative of Palestinian Christians is a powerful antidote." – Mark Labberton, president of Fuller Theological Seminary, author of Called.