St. John's to host four services for Christmas Eve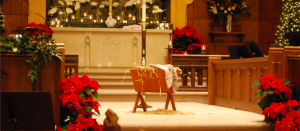 By Susan Shinn Turner
St. John's is hosting four Christmas Eve services this year: 11 am, 2 pm, 5 pm and 8 pm. Because of Covid-19 restrictions, each service will be limited to 100 worshippers, so a reservation system has been set up through our website (CLICK HERE), or you can contact the church office. Please note: as of Friday, Dec. 4, the 5 pm and 8 pm service have reached capacity.
The 8 pm service will be live-streamed online and available as a recording throughout the week of Christmas.
"We can't have a packed church or a packed choir this year, but there's no doubt we will joyfully give it our all," says Rob Durocher, Minister of Worship and the Arts.
The 5 and 8 pm services will feature brass. The other services will feature a combination of  handbells, harp, cello, choir members, soloists, and contemporary worship musicians.
A video explaining the Christmas Eve services will be available in early December.
"Things are different this year, but we're still holding onto those elements that are particularly meaningful, like the singing of carols and the candle lighting ceremony" says Rob. "It's still Christmas Eve and we will still worship the King of Kings."
Pre-service preludes will begin 15 minutes before each service. We're eager to involve as wide a variety of participants as possible, so if you'd like to participate as a reader or in leading prayers, let Rob know.
Of special note is that Pastor Munther Isaac will join us for the online service at 8 pm. He'll be reading the Gospel from Manger Square in Bethlehem, the traditional site of Jesus' birth. Munther is the pastor of Christmas Lutheran Church in Bethlehem, a sister congregation of St. John's.
"We are deeply committed to making Christmas Eve a particularly meaningful worship experience," Rob says.
Especially for Children
For families with children, a Christmas Eve Bedtime Story with Pastor Laura and Stacey will stream live online at 6:30 pm.