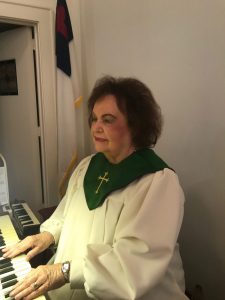 For Over 50 Years, Yvonne Yost, Carole Parrott's Mother, Has Served Cross of Christ Lutheran as Volunteer Organist
By Susan Shinn Turner
Rand and Yvonne Yost were married in June 1962 and started going to church at his home congregation, Cross of Christ in the Rimer community near Concord. Two months later, Yvonne became volunteer organist after the congregation's organist left for college.
Except for a few years' break Yvonne took after she and her husband adopted their daughter, Yvonne has been on the organ bench ever since.
"I never left," Yvonne says. "I just like it."
"It is her most favorite thing in the world to do," says her daughter, Carole Yost Parrott. "It's something she clearly loves. She has always treated it like a job."
Before their marriage, Yvonne was a member of the Methodist church. "So I had a lot to learn. I like the Lutheran service. I like something that's very organized."
Yvonne taught herself to play piano by looking at her sister's John Thompson books. "My mother saw my interest and made it possible for me to take lessons."
Yvonne entered Catawba College as a music major and studied piano, organ, and voice. She later switched her major to education, and taught English and social students for seven years at South Rowan High School, then taught for 28 years at Landis Elementary School.
Cross of Christ had a membership of 250 before it left the ELCA, Yvonne says. Now membership is about 150, with about 100 attending on a typical Sunday.
Yvonne plays a Moeller pipe organ, which with seven ranks is relatively small. At 82, Yvonne says she has no plans to retire.
"I know it's coming," she says, "and I don't look forward to that because it's been such a big part of my life. Sometimes I ask my husband, why do I love it so much? And he just smiles."
Yvonne practices at home, and has worn out one organ already. Her husband bought her both organs, including the one she uses now, an Allen organ purchased in the 1990s. She prefers to practice at home, since the church is about 15 minutes away from their home in China Grove.
Yvonne does have an assistant who plays piano for the rare times she is away. At St. John's, she and Rand have attended the confirmation of their grandchildren, Caroline, Carson, and Harrison Parrott, Harrison's Eagle Scout ceremony, and Youth Sundays when their grandchildren participated, along with the youth auctions.
"We just can't get away too much," Yvonne notes.
Yvonne doesn't hesitate when asked to name her favorite composer: J.S. Bach.
As far as favorite hymns, she has many, among them Come Thou Fount of Every Blessing and God of Grace and God of Glory.
"I play a lot of hymn tunes and I sneak in Bach for the postludes," she says.
Yvonne selects all of the hymns and turns them in once a month to the pastor, The Rev. Rafe Allison. "I work very well with him and I like him a lot."
Yvonne buys all her music and has amassed quite a library over the years.
"I can sit on the organ bench and look at the music in front of me, and I feel that music draws me closer to God," she says. "If I can do something to draw others to God, that makes me feel good."
When she's not on the organ bench, she enjoys decorating her home, cooking, flower arranging, cake decorating, and she's recently started making masks.
Her biggest fan, she says, is her husband. "He has been the most supportive person you could ask for. He has been a tremendous supporter, and Carole and her family have been, too."
Yvonne's dream, she says, is to take organ lessons from Rob Durocher.