St. John's Members Volunteer in the Community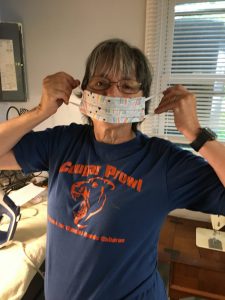 By Susan Shinn Turner
While some volunteer groups connected to St. John's are on pause, others are finding different ways to participate.
The Rainbow Makers, which serves the Child Development Center, is idle for the moment, according to Amy Ritchie.
"Until we can physically be back in the building, we're not participating nearly like we did in the past," she says. "We have members whose spouses have underlying health concerns. I'm keeping my circle small because I'm keeping my three-month-old grandson."
Besides Ritchie, members of the Rainbow Makers include Jane Britt, Judy Childress, Barbara Jo Corriher, and Sally Taylor. The late Lorna Reasor was also a devoted member of the group.
During a typical year, the Rainbow Makers host a book drive, a back-to-school breakfast, a fall festival in October and a Christmas party in December.
"We were active, but COVID has put a big damper in it," Ritchie says.
Ritchie also says the group would love to have new members, even though it's in limbo at present. The CDC advisory committee, to which Ritchie belongs, continues to meet via Zoom.
Even though Britt hasn't been participating in Rainbow Makers, she has been making masks. To date, she says she's made more than 300. "It was something productive I could do."
Britt has provided masks at no charge to the Community Care Clinic, St. John's, Meals on Wheels, and to friends and family.
To date, Bonnie Hord has made some 507 masks at no charge which have gone to Community Care Clinic, St. John's, Trinity Oaks and to friends and family.
Hord's mother, who sewed for the public, taught her to sew in elementary school.
"Of course I had to learn everything she knew," she says. "I am not a perfectionist, but she was."
Likewise, Brenda Goodman has donated 150 masks at no charge to the Community Care Clinic, the ELCA, the VA, and to friends and family.
"I thought making 150 was a lot!" Brenda says, when she heard of the other numbers posted.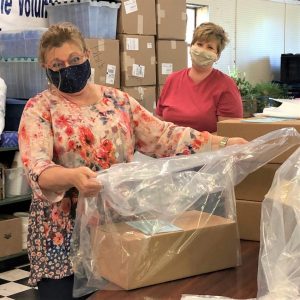 Meals on Wheels started doing things differently beginning in mid-March, according to Cindy Fink, executive director. Deliveries were only made on Monday, with recipients receiving frozen meals for the week. Starting in August, deliveries with fresh meals were done on Monday and Thursday.
"We are using a lot of our volunteers to make comfort calls," Fink says. "We continue to make comfort calls at least twice a week. Those volunteers are doing a fabulous job. They are able to find out other needs as well."
Jeanie Moore calls a list of seven recipients every week.
"I started doing this about five or six months ago, about the time the pandemic started," Moore says. "I'm helping them with some grant writing, so Cindy sends me all her emails. The more I know about the organization, the easier it is to write grants. I asked to make some calls.
This was something I could do, and I felt like I was making a contribution."
Moore says the calls take anywhere from 15 to 45 minutes a week.
"I can call from the car, or wherever I am," she says. "I've been getting to know these folks and their families. They're so sweet. I feel I'm getting as much from them if not more from the interactions. I hope I can go see all of these people and introduce myself."
Moore has also found out about other services the recipients need.
"You just never know what people need," she says. "They have challenges over and above just food. It's good to know the program is making a difference."
Once Meals on Wheels starts delivering more, Fink says, she'll send out a survey to find out how many volunteers cannot participate.
"Some churches have big lists of volunteers," Fink notes. "We have room for anybody who wants to volunteer."
That would include substitute route delivery, grocery shopping, and comfort calls. There are anywhere between 270 to 290 recipients, so some routes are now being split, Fink says.
Meals on Wheels is also following safety protocol, providing masks and hand sanitizers for drivers, and reminding volunteers to practice social distancing at delivery.
Even though some volunteer opportunities in the community are not available now, the need continues at Rowan Helping Ministries. There have been no cases of COVID among its guests or staff members, according to Kyna Grubb, executive director.
Betsy Warner is director of community relations at RHM. There are three steps before volunteers can serve: confirm status of health; confirm immediate needs; and sign up to serve.
At present, volunteers may serve meals in Jeanie's Kitchen (small groups of three to five), attend food packing parties for Food for Thought (groups of three to 10), shelter laundry (one to two individuals) and food pantry (groups of three per shift).
For further details, visit www.rowanhelpingministries.org/volunteer.