Congratulations to Amber Lawson: North Carolina's Outstanding Biology Teacher Award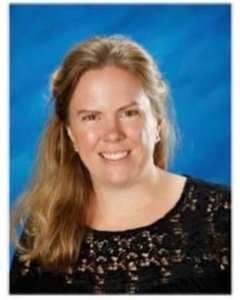 By Susan Shinn Turner
Congratulations to Amber Lawson, who recently received the National Association of Biology Teachers' Outstanding Biology Teacher Award for the state of North Carolina.
Lawson is in her 20th year of teaching at Salisbury High School, where she has taught biology for 17 years. She has a degree in biology from Meredith College, and taught for one year at West Rowan Middle School before coming to Salisbury High.
She's the daughter of Jim Benton and the late Barbara Benton, and the daughter-in-law of Jerry and Fran Lawson, all of whom are St. John's members.
"I've always loved living organisms," Lawson notes. "I walk at least an hour a day and love looking at things all around me."
In high school, Lawson most enjoyed chemistry, but in college a professor stimulated her love of biology. She went with that same professor to Russia to study plants on the tundra.
In February, Lawson received notification that she had been nominated for the award by a parent and student. She turned in five letters of recommendation, plus a 1,000-word essay on her philosophy of teaching. She also had to submit videos of her lessons.
Just as she was returning to school for the new school year, she learned she had won the award.
"That was exciting, especially coming back into such hard times," she says.
Lawson will receive microscopes and lab kits from Carolina Biological Supply and a complimentary one-year membership from the National Association of Biology Teachers.
"I love to instill the love of learning in my students," Lawson says. Her favorite topics to teach are DNA and cell analysis, since students really seem to enjoy both of those areas, she says.
Salisbury added AP biology about 15 years ago, Lawson says, and she particularly enjoys teaching that course. "Those are the students who want to go into biology in college. They have told me they are well prepared and don't have to study because they remember what they learned in high school. Those are sweet moments for you as a teacher."
Away from school, Lawson enjoys gardening, cooking, walking, hiking, and family time.
She and her husband, Ryan, have two children, Abby, 15, a sophomore at Salisbury, and Ben, a seventh-grader at Salisbury Academy.
Congratulations, Amber!