Luke Brown Accepts Position as Principal at Moorseville High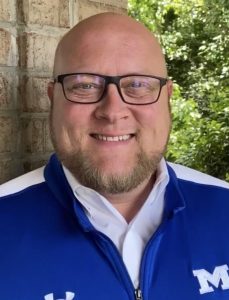 By Susan Shinn Turner
As principal of Salisbury High School since 2014, Luke Brown wasn't looking for a new position. But then a friend told him that the principalship of Mooresville High School had come open, and, after talking with his wife, Elissa, he decided to apply.
Now, Brown is principal of Mooresville High School, with 1,900 students and a staff of 200.
"It's going pretty well," Brown says with the first day of school behind him. Students are attending virtually for the first nine weeks. "It's definitely unusual. I'm learning teachers' names and faces from the nose up. We had a great first day."
To get to know students, Brown has hosted video conferences and a virtual open house. He did a 30-minute Q&A via livestream, which was well attended.
"It's very strange how we're getting to know each other," Brown notes. "Slowly but surely, we are. The staff was ready to get started, and we'll make the best of it."
Mooresville High School is the only high school in the Mooresville Graded School District. The district serves more than 6,000 students in grades K-12 across eight schools. It is a Top 10 school district in North Carolina in academic achievement.
By comparison, Salisbury High School has about 900 students, according to Brown. "It never really crossed my mind to look anywhere else. I enjoyed my time at Salisbury High School and loved the students. At the same time, I have always been impressed with Mooresville and what they had done. I talked with my wife and we decided, why not apply?"
He adds, "Things felt really good and the questions were well thought out. It is a really good fit and a good opportunity for our family."
Brown will commute for now to allow his son, Noah, 13, to finish eighth grade at Erwin Middle School. His son, Mason, 9, is a fourth-grader at Granite Quarry Elementary School. Elissa is a school nurse with Rowan-Salisbury Schools.
Brown says he doesn't mind the commute. "It allows me to gear up on the way to school and gear down on the way home. But I want to be active in the community like I was in Salisbury."
At St. John's, Brown has been a member of the 9:27 production team and a singer/bassist with the 9:27 band.
Away from school, he enjoys playing video games and golf with his sons.
---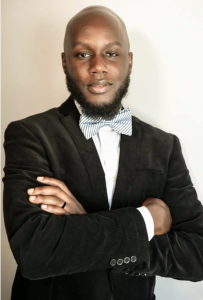 Congratulations to New Isenberg Principal Nick Anderson
On-site Volunteering Postponed
Congratulations to Nick Anderson, newly appointed principal at Isenberg Elementary School, replacing Marvin Moore, who was selected as the new principal at Salisbury High School.
St. John's has a rich partnership with Isenberg thanks to our third grade reading program. Although volunteers are not yet allowed on school campuses, be on the look out for other ways to help our schools during this most unusual school year.