G2G Phase 2 Pandemic Update
Wednesday, September 16, 2020
|
G2G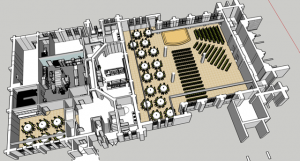 By Mark Lewis, chair, G2G Steering Team
Greetings Brothers and Sisters.  It has been a LOOONNNNGGG time since we last spoke about our G2G Phase 2 Campaign Results and Action Plan. As a refresher, let me tell you where we were in the campaign process when the lockdown began.
We rolled out Phase 2 of the Generation to Generation Campaign on Jan. 19, 2020 with outreach and communication to our congregation members for 4 weeks before Commitment Sunday on Feb. 23, 2020. That day, we had campaign commitments brought forth totaling $2,438,391.  Praise be to God! The $2.4 million in campaign pledges presented 178 families of the identified 486 to complete a campaign pledge. So, what happened next?
The campaign timeline was to give 3 weeks of time after Commitment Sunday for other pledges to be collected through the mail and Sunday Offering Plates. Then a group of campaign volunteers was set to make phone calls and/or email outreach to the over 300 family units that had not yet returned a pledge card. Alas, the pandemic would then be in full swing which caused tremendous uncertainty amongst our congregation and community. The G2G Phase 2 Steering Committee felt it best that we pause the fundraising at that point and wait until a more appropriate time to discuss contributing toward our G2G Phase 2 plan sometime in the future. That day is not here quite yet.
Just because we paused the fundraising doesn't mean that we stopped the development of the plans that we need to move forward when the funds are in hand. To that end, Building Committee Chairman, Mike Agee, in consultation with the Executive Committee, began working with our architects, Bill Burgin and Diane Gibbs with Ramsay, Burgin, Smith Architects.
Within this newsletter, Mike has an excellent article with detailed drawings to explain where we are through today and where we are headed. I encourage you to take the time to read his article as it is full of good information.
A Great Start! As of Aug. 17, 2020, I am pleased to present to you the most up-to-date Campaign and Financial Reports: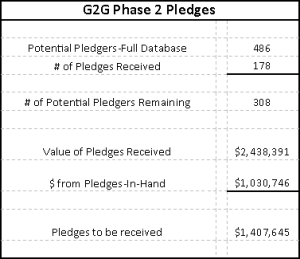 As you can see from the chart above, with the payment of pledges beginning on May 1, 2020, we have already received $1,030,746 of the pledges, leaving $1,407,645 outstanding with 2 ¾ years remaining to fulfill the pledges. A great start!
Additional Campaign Resources. Of course, there is more to our financial report than just the campaign's success as we had a starting balance of $612,455, thanks to those who made gifts to G2G Phase 2 before the campaign began, alongside additional income from memorial gifts The chart to the right outlines total income and expenses for phase 2, as of Aug. 17, 2020.  As you can see, available cash (gifts received prior to Dec 1, 2019) plus Pledge Campaign totals $1,646,211.
Expenses to date: $107,985. We have had some planning and design costs, along with expenses developing the building plans (ie. architect, engineering, and testing fees), leaving a cash fund balance of $1,538,226. When that balance is added to the remaining pledges receivable, we get a current Total Cash Balance + Pledge Receivables of $2,945,871 to support our Phase 2 projects.
Tricky times and faithful response. We have made a lot of headway during a very difficult time for our congregation family. The Steering Committee will continue to meet monthly to manage the projects. We will bring further news to you when appropriate. For now, we pray that you all stay safe and remain grounded in our Lord Jesus Christ.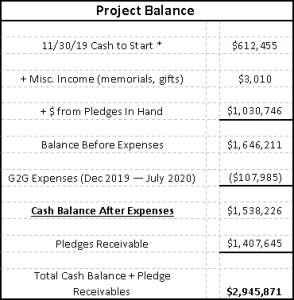 Major Gift Announced for CDC Project
In loving memory of their mom, Lorna Reasor, the Reasor children have made a $100,000 gift to the CDC fence project and towards the renovation of the CDC kitchen, part of the phase 2 campaign.
Lorna was a passionate advocate of the CDC, as a member of the Rainbow Makers Team, which provided encouragement to teachers and parents.
"As I think about this much-needed fence, I can envision Lorna's arms wrapped around our kids," says Amy Ritchie, chair of the new Outdoor Learning Center team. "She always wanted to make sure they were safe and loved.
Lorna, 88, died of heart complications on July  11.
Of Note: The Reasor gift is not reflected in the charts above.