Remembering Pastor Doug Fritz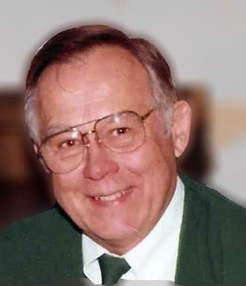 1927-2020
The Rev. Douglas Fritz, D.D., of Savannah, Ga., died July 28, 2020, at the age of 93. Pastor Fritz served St. John's from Dec. 1, 1963 to Oct. 13, 1974, a tumultuous time in the life of the country.
"Dad began at St. John's the Sunday after Kennedy was assassinated," remembers Robert, the oldest of the Fritz's two children. "He announced his resignation just a few weeks after Nixon's resignation. Those were most unusual years."
In spite of — or perhaps because of — Fritz's tenure marked an important era for the congregation. Perhaps most significantly, he was an integral part of the committee which raised funds to buy land and build the chapel and education building, dedicated Dec. 31, 1967.
One of the committee members was Charles Wallace, the father of Kay Coltrain.
"My father worked hard on that building committee, and there was the same kind of excitement as we had for the Faith Center," Kay remembers. "A lot of love and good work went into it."
She adds, "We liked Pastor Fritz a lot. He and Anne were an attractive and dignified couple."
Glenn Ketner Jr. agrees.
"Doug and Anne were great friends of my parents, and friends to Susan and me," he says. "Doug baptized our son, Bo. We thought very highly of them. He was an excellent minister and a good leader for St. John's."
During his 34 years in ordained ministry, Fritz served churches in North Carolina, South Carolina, Florida, and Tennessee. He was a graduate of Lenoir-Rhyne, where he served on the Board of Trustees and received an honorary doctorate.
He and his wife, Anne, who preceded him in death, retired to Columbia in 1980 before moving to Savannah in 2008. A graduate of Lenoir-Rhyne College and Lutheran Theological Southern Seminary, Fritz is survived by two sons, two grandchildren and three great-grandchildren. A private family service was held at St. Andrew's Lutheran Church Cemetery in Columbia.