Monday, September 7, 2020
|
Worship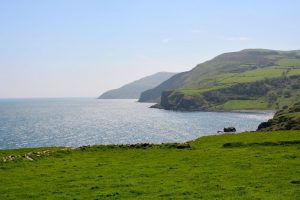 Be Thou my vision, O Lord of my heart; Naught be all else to me, save that Thou art;
Thou my best thought, by day or by night; Waking or sleeping, Thy presence my light.
(Evangelical Lutheran Worship Hymn #793)
By Rob Durocher, deacon
Minister of Worship and the Arts
Over a thousand years ago and passed down from generation to generation the words of an Irish poem, 'Rop tu mo baile' became known as the hymn Be Thou My Vision, written by Dallán Forgaill, (AD 530 – 598) an early Christian Irish poet. Although he was not a priest, his poetic writings reflected a great spiritual awakening in Ireland that began with the missionary work of St. Patrick in the early 5th century. This time period saw the Irish begin to reject paganism and Druidism and embrace the Gospel of Jesus Christ even raising up missionaries who were sent out of Ireland to other lands!
Dallán Forgaill who descended from the Irish High King Colla Uais, was considered a chief 'Ollam', or Poet in Ireland in his time. His faith and hard work helped to settle several Catholic churches throughout Ireland. He was also a scholar of Latin scriptural learning who studied so intensively that he eventually lost most of his sight, earning the nickname Dallán ("little blind one"). Because of his blindness and other struggles, his words spoke of how much he desired God's light and guidance, and what a treasure that was to him. His words were his prayer that God would be his vision and his presence would be his light, and that there would be nothing to come between or interfere with this relationship. In time, Monks would chant Dallán's poetry and eventually this would lead to his poem being sung as a hymn to the tune SLANE. (SLANE was a hill in County Meade, Ireland where St. Patrick allegedly defied the high king's order by lighting an Easter fire celebrating Christ's resurrection instead of lighting a traditional fire celebrating a pagan festival).
In 598, when pirates broke into the island monastery of Inniskeel, County Donegal, Dallán Forgaill was said to have been beheaded, his head thrown into the sea and his body buried on the island. He was given sainthood in the early 11th century and is known today as St. Dallán.
These days when I think on the words of this hymn, 'Be Thou My Vision' has so much more meaning in light of how very much our lives and our worship practices have changed! I find myself asking 'what IS God's vision for his church' in a time of such a sudden reformation? What challenges and opportunities lie ahead of us? In a way – daunting as it is, it is also exciting! While we never get to decide what God's vision is for us and his church, we do get to participate in it because he calls us to it, and we worship a God who makes all things new!
Our prayers for God's guidance and vision, a renewal of spirit and enthusiasm, looking at the possibilities and not the pitfalls, thoughtful conversation and bright hopes for tomorrow in not only how but where we worship while embracing these new digital days give us such promise! Our worship staff remains committed to not only continuing the conversation, planning, not being afraid to try something different in bringing worship, music and the arts to you and our community – but welcome your thoughts and ideas as well!
Little by little we're beginning to see an increase of those returning to 'in-house' worship at our 9:27 Sunday service, increased viewing of our streaming 11 am Sunday worship and more communing worshippers for our Wednesday 12:15 pm Chapel service. It's very possible that we might prayerfully begin to add one or two more small, in-person worship opportunities during the week, but again whatever we do will be led by embracing God's vision for us (as it should be in all things)
St. Dallán's poem, Be Thou My Vision is a prayer that Christ will be our vision, our best thought, our presence, our light. It expresses faith in a God of ultimate power, whose wisdom and goodness encompasses past, present and future, a mystic understanding of living each day closely connected to our God who dwells within us. The power of the words of this hymn is as timely in 2020 as they were in the 6th century as we pray to see the world through Christ's eyes, be opened to His vision for our worship, our church, and our community – made strong with a strength that comes from God.
Verse 4: High King of heaven, my victory won,
may I reach heaven's joys, O bright heaven's sun!
Heart of my own heart, whatever befall,
still be my vision, O Ruler of all.