Taylor Hutchins Leads Efforts To Stream Online Worship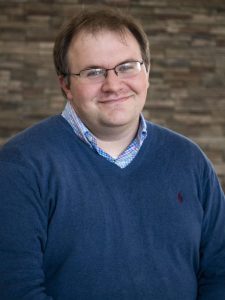 By Susan Shinn Turner
After St. John's closed its campus in mid-March because of the coronavirus, the media team had to step up its efforts to provide a Sunday service which solely relied on the livestream.
Fortunately, the team had started live-streaming in November 2018, according to Taylor Hutchins, who leads the team.
"We used the current equipment we had, which was basically a camera on a tripod," he says. "It wasn't great quality, but it was a start."
Several months later, the team acquired better equipment, with multiple cameras that would zoom and include more areas of the sanctuary, along with better image and audio quality.
"It's something we had been talking about for a while," Taylor says of the upgrade. "In the beginning, we were livestreaming audio only. It was hit-or-miss and wasn't great quality. There was no reason not to do video. It was just a matter of figuring it out. We were ahead of a lot of other churches, so we ended up being ahead of the curve when COVID-19 started."
The church staff decided one Friday that St. John's wouldn't have services for the foreseeable future, and the media team has been working together since. Besides Taylor, the 11 am team includes Mike Agee and Cory Gebhardt. Normally, Taylor says, he has 16 to 20 volunteers who rotate among the three services.
"It's been interesting to see how creative we can be on delivering audio and video," Taylor says.
The service is streamed live through the St. John's website as well as its Facebook page. It's also posted on the YouTube channel, so folks can watch later in the week.
St. John's has also started a monthly podcast called "Conversations that Matter," Taylor notes. "We're continually trying to do new things. People have been so incredibly patient and thankful about what we are trying to do."
There have been a couple of glitches in the past few months, Taylor says, "but we just do our best with what we have."
"It's been a collaborative effort," Mike says, "and behind all that is Taylor. We would not be where we are without him. He truly is the one who puts it all together and makes it flow. It's a lot of work to bring it to the screen.
"Taylor plays a key role. You won't find anybody who doesn't appreciate him. He's humble and funny, and we have a lot of fun. He's great to work with."
On July 1, Taylor will observe his fifth year on staff. He saw an ad in the paper for a contemporary worship leader at St. John's, posted just before the Faith Center opened in September 2015.
"I knew I wanted to serve in the church," Taylor says. "I contacted the church and said, I cannot lead worship, but I can do sound, video, media, and lighting. They brought me in for a meeting and here I am."
Three years ago, Taylor and a friend formed their own web design and production company, which now has 65 clients.
"But it will never replace my love for St. John's," Taylor says. "I just love this place."