The Journey of Friendship: Through the Mountains and Valleys
By Stacey Shafer
When you see and feel Jesus at work it's a time to rejoice and be thankful. That's exactly what I am feeling right now as my sweet friend Julie is awaiting Jesus to call her name home. I can picture a Father embracing His beloved child as she carried her cross higher than I have ever witnessed. Yes I am sad, yes I have questions, yes I find it hard to understand why her friends and family have to hurt so deeply. But what brings me to a better place is that peaceful feeling I always get when Jesus' love shines through.
There is a story to every relationship. For Julie and I, we knew each other years before our friendship would ever form. I remember her being the first person in Center Celebration Service at St. John's, raising her hands high while singing, and thinking to myself, I want to praise Jesus like that! When she had Dawson, I remember praying for the miracle that God had blessed her and David with. We would sometimes be at the same gatherings and talk in church, but it wasn't until I got that phone call every person that has been through cancer hates to get. When someone else, especially someone you know calls you and has questions about the pain they're having your heart sinks and says oh no, not them, please not them.
Julie knew her body, and that's one thing we had in common. Listening to that little voice in your head can make a big difference. We talked, prayed together and in that moment, our friendship was formed. At the time Julie was diagnosed with stage four lung cancer, I was a four year, triple negative breast cancer survivor. When diagnosed with cancer or any other sickness or life changing event, you lose all control of the person you were before. This is the part where Jesus connected our friendship that would continue to grow during the next three and a half years.
You see, Julie and I decided from the beginning of our cancer journeys that we had to continue to praise Jesus in this storm while giving all control to Him. If we spent what little energy we had during chemotherapy treatments, surgeries, radiation and doctor appointment's focusing on fear and anger, we would be so emotionally drained that we wouldn't have been able to use what little energy we had left on the goodness Jesus had put before us. What an opportunity we had before us to tell others how good God is and how having mountains to climb in life's journey can give you strength and courage like you never knew you had.
Jesus Calling was a devotion book Julie would read every day that kept her focused on Jesus and the positive. For me, when my hands had strength to work right, I would write in a journal. We both found fulfillment in praising through Contemporary Christian music. Being together singing and worshipping with our church family on Sundays is so uplifting to the spirit, but one song in particular we sang together during an appointment I accompanied her to was "Good, Good Father," by Chris Tomlin.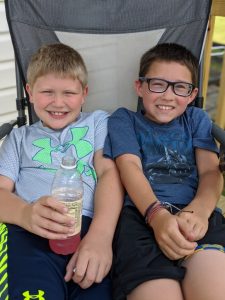 At the start of the pandemic, Julie's battle took on some major changes. The blessing of having Dawson home more also took on new challenges. After a morning of schoolwork, Julie would need to rest, but if you know eight-year-olds, they are ready to release energy! That's where this "Be of Good Courage" story takes a turn from my friendship with Julie to Dawson and Gabriel's friendship.
Yes, they have grown up together in church and played here and there, but anyone who knows Gabriel knows he doesn't let people into his "circle" easily. They had connected more recently, before the pandemic, at church. I could tell Gabriel was opening up and I soon realized this was part of God's plan. We would pick Dawson up several times a week to come play while Julie went to appointments or rested.
We had trips to Snow Biz that have now became a standard in the boys minds, scavenger hunts around the neighborhood, video game FaceTime calls, outdoor football games where they both tackled me to the ground, but what I have witnessed the most is their courage, their giggles, their forgiveness (have you ever listened to friends battle together on a video game?), their love for each other. This whole time I have felt God is working on something big for them. The friendship has been brought together by their mother's cancer journey's, but what else is God working on? Maybe it's just this story I felt so strongly pushed to write or maybe it has to do with the bible verse that showed up on several devotions I was blessed to have read to Julie from her Jesus Calling book. "We know that all things work together for good for those who love God, who are called according to his purpose." Romans 8:28  I don't have the answers, but I will continue to choose to see the goodness of what is being formed.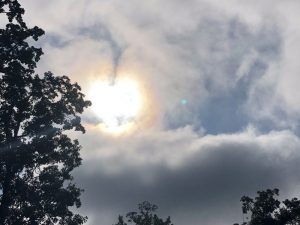 In Julie's last weeks, we talked about the boys and the sound of their giggles. What a smile it brought her to her sweet face. Through the hardest of days Dawson showed such great courage. Being honest with his emotions, leaning on family and friends for comfort- that's where strength comes from. Julies motherly love will always shine through Dawson and as he wraps his prayer blanket around him I pray he feels her arms that have been healed by Jesus ever so tightly.
As I type the last few paragraphs compared to the first few, Julie is now in heaven. The day after she passed, I went for an early morning run to release my emotions. As the sun would come out and then go back in, I noticed it was extra bright at times. I looked up and took a couple pictures to capture the feeling of knowing it was Julie watching over me. Later, looking at the pictures I noticed a heart in the clouds along with a little angel dot, as I call it, to the side. Believe what you may, but Jesus and Julie blessed me with that feeling of peace in that moment. Julie and I connected through the Holy Spirit and in that moment, I knew she was telling me she was healed and home.
I love you big, my spirit sister, and until it's my time to journey to heaven, I will continue to shine God's light while using my servant's heart.