Youth Auction Rescheduled and Online May 18–22
By Pastor Laura Henrik
Our summer mission trips might be cancelled but our heart for reaching out is bigger than ever. Therefore, we are moving our annual Youth Auction to an online format May 18-22.
On our website, we will have a tab for the youth auction. There will be new items posted each day.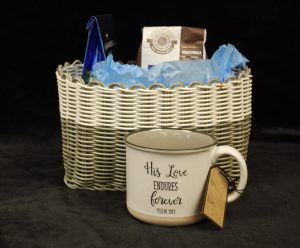 Our items posted on Monday will be our live auction items. We will be taking bids on them from Monday morning to Friday at 5pm. Some of the auction items you won't want to miss include: Restaurant Grade Mixer, Wine Basket, Lowe's Handyman Basket, "Game Day" Basket to name a few. Every other day will roll out with a theme and "Buy it Now" items to purchase.
Tuesday is all about "Lookin' Good."  You'll find soaps, fashionable bags, earrings, and t-shirts!
Wednesday brings "Around the House" items. Be on the lookout for a google home mini, candles, lamps, pillows, wooden prayer crosses, and Easter gift bags!
On Thursday, everyone is just "Waitin' for the Weekend."  Golfers won't want to miss out on this day, as there are some great golfing packages available. You'll also find books and gift baskets, including a coffee and chocolates basket and a Grillside Crate from Spice and Tea Exchange. Other hot ticket items on Thursday will be the Yard of the Month, Home Improvement, Auto Repair, and Frame Yourself packages.
Friday is "Are you Hungry?" day. Friday will feature a number of meal items including giftcard packages like, Lunch for a week, fine dining, sweet tooth, and start the day. Local favorites include Mykonos, Ivan's, The Shuckin' Shack, and more!
The proceeds from this auction will go to the youth fund for different trips throughout the year. In addition, funds will be directed to our mission and camp partners that depend on youth groups and summers filled with students to support their vision and charge out their mission. For example, you can buy a bag of food for $35 that will be shared with a family from Escuela Integrada, our school in Guatemala. Each bag provides 2 weeks of food for an entire family.
We hope that you will be a part of this virtual auction. As always, you can also donate to the youth auction if you do not see something that you like.