Roger and Linda Hull: Silent Angels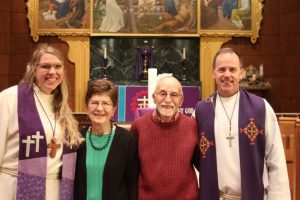 By Kathy Rusher
On Sunday, March 8, St. John's honored our newest Silent Angels, Linda and Roger Hull, active members of St. John's.
Roger and Linda have been involved in such a variety of ways at St. John's throughout the years. Roger is an excellent photographer and is always willing to help take pictures of church events. Linda has been a faithful choir member for many years.
Together, they are devoted to many of St. John's activities and ministries. They serve as communion assistants and always refresh the pew supplies in the sanctuary and friendship pads, after picking up in the sanctuary after the service. The Hulls are usually found making sure all the doors are locked, and they are last to leave our beautiful sanctuary on Sunday mornings.
They have been involved with the Conversations that Matter team and helped plan the trip to Montgomery, even making the flier for the event. They host a Sunday night small group during the year and have supported the Senior Academy. When they are not busy with church activities and have time to travel, they are always willing to share in their experiences which assists other church members in their travels.
Linda and Roger's work around the church is evidence of their commitment to St. John's and our ministries. They are always eager to lend a helping hand with a servant's heart.
Thank you, Linda and Roger, for all of your time and interest that you have shared with us at St. John's.