Mike and B.J. Connor Spend 3 Months in the Holy Land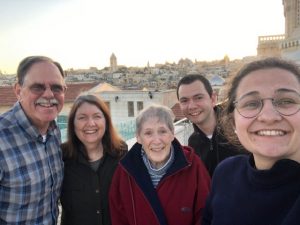 By Susan Shinn Turner
Mike and B.J. Connor have safely returned from a nearly three-month stay in the Holy Land as volunteers at a pilgrim house in the Old City of Jerusalem. The two had to cut their trip short by two weeks because of growing concern about the coronavirus. They spent the first two weeks after arriving home under self-quarantine. So far, they are symptom-free.
Mike has long been active in St. John's Palestinian Ministry, and this was his fifth trip to the Holy Land.
"It was better than I expected," says Mike, who spent three months as an ecumenical accompanier in 2017 in the West Bank.
"It was 100 percent Mike's idea to apply to be volunteers," B.J. says. "I agreed for his sake. It sounded like an adventure. Mike and I enjoy doing ministry together."
In exchange for volunteering five hours a day, Monday-Saturday, Mike and B.J. were provided with room and board. They were also encouraged to engage with members of the communities, the Sisters of Sion and the Chemin Enuf, who operate the guest house. The guest house is built over the second station of the cross on the Via Dolorosa, and tour groups arrived frequently until Mike and B.J. were about to leave. All the proceeds for the guest house come from tourism.
Overall, their experience was good, she says. "We loved it. It was a bigger learning curve for me than it was for Mike."
"Sister Rita, the director of volunteers, made all the difference in the world," says Mike, who experienced much nicer living conditions on this trip than three years ago. "This was like heaven to me."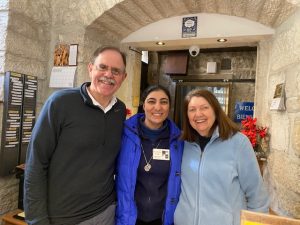 "It was all about relationships," B.J. says. "The sisters, staff, guests and volunteers are all wonderful people."
She grew especially close to a Muslim woman who worked the front desk with her. "We just enjoyed each other so much."
Because they had Sundays off, and often time during the day, Mike and B.J. took long walks or visited historic sites such as the Church of the Holy Sepulchre or the Holocaust Museum. The guest house also had a small basilica, along with gardens and plenty of areas to find a quiet space.
On Sundays, the Connors split their time attending services at Christmas Lutheran Church or Redeemer Lutheran Church. One Sunday, they even watched services at St. John's via live stream. They were able to share meals with Pastor Mitri Raheb and Pastor Munther Isaac, St. John's mission partners.
Mike says there are many opportunities like this all over the Holy Land. "It was one of the highlights of our 47 years together."