Ms. Pam: Walking into Sunshine at St. John's CDC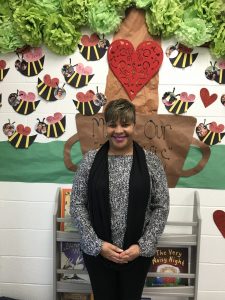 By Barbara Jo Corriher
It might be gray and rainy outside, but when you walk into the St. John's CDC, you are walking into a beautiful, sunny day because Ms. Pam is there to greet you. When you are in the presence of Ms. Pam you glow because she glows. She shares her smile and hugs freely. Pam is the perfect person to greet each and every person who walks through our CDC doors and bid them farewell as they depart.
Pam started taking care of children at an early age. Being the oldest girl of seven siblings, she learned quickly how to take care of children. Later Pam would follow her mother into teaching. You'll still find Pam's mother, Virginia Palmer, coaching little league basketball and softball.
Pam is from Williamsburg, Virginia, where she met her husband of 33 years, Jeffrey. The couple moved to Rowan County for Jeffrey to work for Freightliner in Cleveland. Pam later took their two girls, Anesia and Alina, to Advantage Children's Center across the street from Freightliner. The director, Pam Bough, smartly encouraged Ms. Pam to consider taking a job at the center and Pam decided to accept.
Pam worked with Advantage Children's Center for ten years, starting in a 1-year-old class and ending as a 4-year-old class teacher and assistant director. Eventually, Pam decided to take a job closer to her home in Salisbury. Krishna Lail, the director of our CDC at the time, offered Pam a job as a 4-year-old teacher as soon as she walked in the CDC's doors. Pam has now worked with St. John's CDC for 14 years. She has always been a teacher in our 4-year-old class, but this year you will find her at the front desk smiling, answering the telephone and giving out a lot of hugs.
Pam's job description includes maintaining the school's waiting list, registering new students, transitioning children from one classroom to the next, greeting all, answering the phone, transferring calls, giving tours and more.
Pam and Jeffrey's two amazing daughters are now grown and successful. Anesia, now 27, graduated from UNC Chapel Hill on a full scholarship. She is a wedding videographer and travels extensively to film weddings. Alina, 25, graduated from UNC Charlotte on a full scholarship and works for Bank of America and has her own calligraphy business.
Ms. Pam does miss being in the classroom, but she seeing people happy and helping them when help is needed. Thank you Ms. Pam for providing the sunshine we all need when our day may be gloomy.