Carolyn Myers Honored for a Lifetime of Tutoring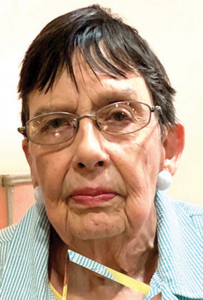 By Susan Shinn Turner
When asked about her recent Lifetime Achievement Award from the Rowan County Literacy Council, Carolyn Myers says, "Oh, that's old news!"
But the retired educator encourages others to become a tutor. Carolyn spent 35 years as a tutor and trainer with the literacy council. She's also been the board's president, vice president, and treasurer.
"It's just something I wanted to do and could do," she says. "It was just what I did with my time."
Carolyn and her husband, Robert, attend St. John's. They are the parents of John Myers, whose wife is Betsy Graeber Myers, and the grandparents of Riley and Griffin Myers. Because of Robert's health, Carolyn is not tutoring at the moment, but would like to return when she can.
Carolyn learned the Laubach method of tutoring when working with a fellow teacher, Flo Peck. "They gave me students who could not read."
Carolyn enjoyed it so much that she returned to school and got a master's degree in reading, later teaching second- through fifth-graders in the Title I program at North Elementary School.
So she's worked with elementary students, teens and adults. When asked which she liked best, she says, the second-graders. "They give you hugs!"
Then she adds, "I just enjoyed all of it. It's been a good time. It was an important thing for me to do."
If you'd like to become a literacy tutor in the future, please call the Rowan County Literacy Council at 704-216-8266 or visit rcliteracy.org.