CDC Renovation: Preparing space for our youngest generation
By Barbara Jo Corriher
The CDC is 20 years old and continues to be a remarkable and necessary ministry to the next generation of citizens, leaders, and faithful Christians. Here are a few highlights of why this Campaign matters for the CDC.
St. John's Outdoor Learning Environment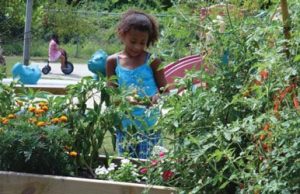 Although not officially a part of the phase 2 Campaign, it's hard not to talk about our new Outdoor Learning Environment. What a great combination, children and nature, all gifts from our creator. Thanks to your incredible support, our dream will soon be a reality!
Let's meet Colleen McDaniel. The St. John's CDC playground committee has selected Colleen to lead this exciting project. Colleen is the owner and designer of The Inspired Garden. She is a NC licensed landscape contractor, a NC licensed general contractor, and a design and installation professional with 24 years experience.
Colleen shares, "I have been given a chance to change the lives of future generations by helping children to learn through and in nature. It is an honor and a gift to me to share the inspiration that I derive from the natural world in the form of educational gardens, outdoor learning environments and spaces where children can learn through nature-based play."
Colleen is currently waiting on county and city permits. During active construction, CDC students will use the corner lot for outside activities. Our NC childcare consultants have approved this temporary measure and are very excited for us to begin this new venture of outdoor learning through play.
Work begins the first week of February, with a completion date of late April or early May — just in time for the children to enjoy springtime weather while moving from a playground to an Outdoor Learning Environment!  What an exciting time for us all!
The Brightwheel App
The new outdoor learning environment will create such a positive impact for our children, but the Brightwheel app is currently making a tremendously positive impact for CDC parents and our families.
Brightwheel's system is a tool for classroom management, communication, photos, videos, online bill pay, and much more. A CDC parent now receives their child's daily report via their phone, iPad, or laptop. This correspondence may include pictures, videos, reminders, information regarding meals, snacks, diapering, and more. Parents are able to respond to these daily reports via their web or mobile app. Families are also able to make secure, automated online payments.
The Renovation
It's hard to underestimate the importance of renovating the CDC, something that hasn't happened since it was opened in 1999. Think about it: 180 kids and 40 staff use every inch of that space five days a week, nearly 12 hours a day. That's a lot of wear and tear!
Thank you for your support of this much-needed, highly significant ministry!
---
Phase 2 of our G2G Campaign celebrates the life-changing ministry of our Child Development Center. We will renovate the CDC for the first time since it opened in 1999. The renovation will include painting, flooring repair, the addition of a toddler restroom and a much-needed multi-purpose room, proper storage, and an updated kitchen. Thank you for your support!