Margy Fink's Legacy as a Cook of the Kitchen
By Susan Shinn Turner
If there was one thing the late Margy Fink was known for, it was her cooking.
When her daughter, Cindy, lived in Oxford, she was in charge of weekly meals at the Methodist church. "We rotated families that would be in charge. We'd have anywhere from 45 to 75 people." She was just following her mom's example.
When Margy Fink started cooking at St. John's, 50 people came the first week. The next week, there were 125.
"The word got out that she was cooking," Cindy says. "She had a reputation as a good cook."
Margy was trained as a dietician, and her daughter eventually found all her notebooks from every Wednesday night meal she cooked. "She knew the cost of each meal, to the penny. She did that for every single meal she prepared at St. John's."
When Cindy's two boys were young, she often wanted her mom to come to Oxford to help her out, but she always knew her mom couldn't come until Thursday afternoon, and that by Monday, she'd need to return to Salisbury to shop for that week's meal.
"Her whole week revolved around it, the Wednesday night meal. It was that important to her."
One of Margy's most popular dishes was a delicious chocolate sheet cake that she made for funerals. Originally known as Margy's Funeral Cake, it was later renamed Friendship Cake, probably so that we could enjoy it on a more regular basis.  "It was heavenly," her daughter remembers.
Margy also cooked for the Octogenarian Luncheon until she turned 80, when Cindy told her, "Mom, you don't have to do it this year. You can show up as a guest!"
"Her volunteer contribution was always around food," Fink says. "When she retired, that's how she wanted to use her gifts."
Cindy is serving as president of Council this year.
"It's important that we continue our beautiful tradition of hospitality at St. John's, warmly welcoming all who come through our doors. That includes adding handicapped accessible restrooms to our sanctuary, continuing to enhance  the amazing music we enjoy, and also by sharing a delicious meal in the fellowship hall. That's what my mom was all about, which is a big reason I'm so supportive of this campaign."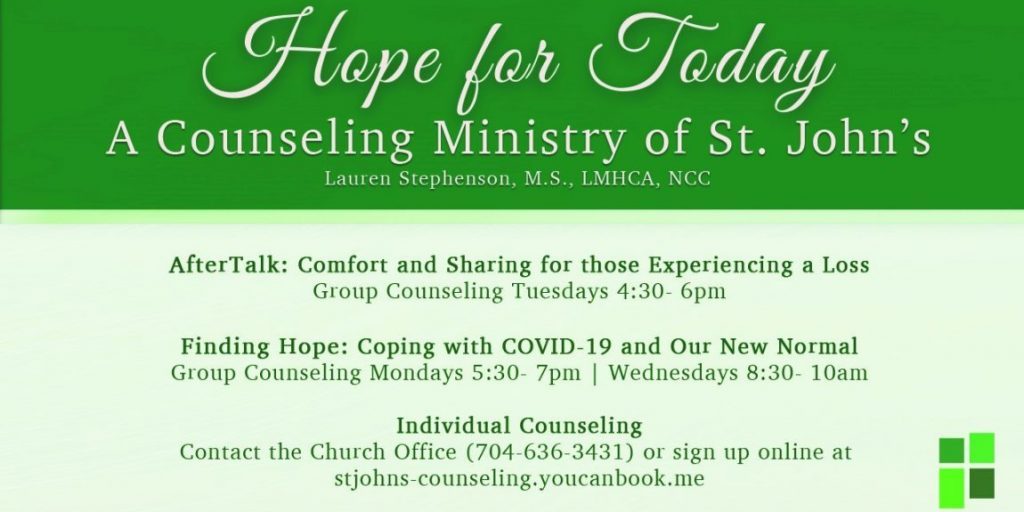 New Counseling Ministry Begins at St. John's "Hope for Today": addresses pandemic, loneliness, and re-entry concerns
By Pastor Rhodes Woolly It's not easy living during a global pandemic, especially as we navigate the sometimes-lonely waters of quarantine and social distancing. In addition, anxieties are rising as...