The G2G Phase 2 Campaign Kicks Off
By Susan Shinn Turner
Too many cooks in the kitchen? Not at St. John's!
For years, a variety of wonderful cooks have been feeding our bodies with delicious food, and feeding our souls with fantastic fellowship for the weekly Wednesday meals. And they've been doing so in a kitchen that's in woeful need of an update.
That's one of the many items that Phase 2 of the Generation to Generation campaign will accomplish.
Ott Pinkston heads up the current roster of cooks. He's ably assisted by Celia Jarrett and a slew of volunteers divided into help with the main course, desserts, desserts, dishwashing, and cashiers.
"People just hop in and help," Celia says. "If we had to list all the people who have helped with that ministry over the years, it would be hundreds. The hospitality of sitting together and having a meals is part of our history."
And the number of meals continues to grow, despite the limitations of the current kitchen.
"The thing is, I don't know any better!" Ott says. "But there isn't any space. Last Wednesday, I cooked for more than 170 people. That's about our max, and it doesn't seem to be decreasing."
He adds, "All of us want to do great. Our following is unbelievable. I get thank yous every week. I'm looking forward to a new kitchen. I've never cooked in a modern kitchen!"
Georgi Goss was the first cook for our Wednesday night meals. Margy Fink was another. After her retirement, Ann Hatchett and Cheryl Goins took over the duties for three years.
"We had everything we needed," Cheryl says, "but we sure do need some updates."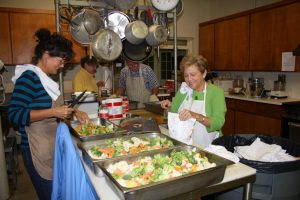 Cheryl serves on the NC Synod Council and has seen plenty of these campaigns. "You have to update what you have," she says. "Just like you keep up your home, you have to keep up your property, and have it ready for the next generation."
Lee Wagoner was the next to step in until Ott and his crew took over.
"Everyone should cook in there one time and they will donate as much money as is needed!" Lee says, laughing. "We had lots of funny experiences, but we still put out enough food for 150 people every week. We made it work. We had a crew who had their purpose. They all knew what to do and where to go."
The volunteers all know that their involvement is about more than making food.
"We do far more than feed families on Wednesday nights," Sharon Agee says of the expansion. "Our Wednesday meals draw us together as a bigger family centered in a bigger purpose. That's what I love about this campaign. We have a unique opportunity to serve the community in even better ways — ways we don't yet even know about. Think of all the ministry we've hosted in the Pit. So much of that was never even on the horizon when we began the phase 1 campaign. There are so many possibilities for this space."
"We need a kitchen that's going to lead us into the future," she says.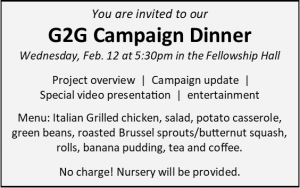 *This post originally stated that Margy Fink was the first cook of the kitchen. Georgi Goss was the first cook of the kitchen.