GIFT Women Partner With the Sweet Potato Queens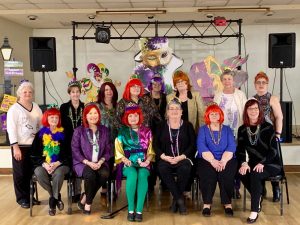 By Susan Shinn Turner
If you have costume jewelry you no longer wear, the women of GIFT ministry would love to have it.
They are assisting the Sweet Potato Queens in a fundraiser for the Wallace Cancer Center. The Sweet Potato Queens were formed in 2001 to raise money for the American Cancer Society. As of 2017, the group raised $250,000. After that, the women turned their attention to the local cancer center, according to Margaret Basinger, a St. John's member and one of the founding members of the Queens.
Margaret recently went to a reunion of her Huntersville Elementary School friends, and one of those ladies mentioned that her church had a successful jewelry sale as a fundraiser. Margaret and the other Sweet Potato Queens decided that would be a good project for them to take on. The Queens also sponsor a dance, two yard sales, a chicken and noodle dinner, and a white elephant auction.
"It occurred to me that the women of St. John's might like to take part in this project," Margaret notes.
So far, the Queens have collected jewelry among themselves, from the Wine and Women group, and from the women of Grace Lower Stone Church. They're still deciding when and where to have the jewelry sale, and Margaret estimates it may take up to a year to clean, price, and display the jewelry.
"This is going to be a beautifully presented jewelry sale," she says. "We have a lot of very pretty jewelry."
"This project gives GIFT ladies another service opportunity," says Kristin May, chairman of the GIFT planning committee. "In December at our Christmas Party, we will collect jewelry and provide our ladies with more information about the project."
The group will then work on the jewelry at its spring social.
The Christmas Party is set for 6:30 pm Dec. 12 at Carol Brown's house. If you cannot attend, please bring the jewelry to the church for GIFT ministry.
Bring a $10 gift for a fun gift exchange and a snack or wine to share.