Group of 12 Set Sail on the Journeys of Paul
By Susan Shinn Turner
In October, a group of 12 members and friends of St. John's took a cruise to Greece and Italy, "The Journeys of Paul." The two-week itinerary featured many places the apostle preached. Shipboard lectures by Dr. Craig Hill provided additional richness to the experience.
The group flew in and out of Rome, according to Rob Durocher, minister of music at St. John's, who also served as group host. When the group wasn't on the ship, they disembarked for tours and optional excursions.
An excursion to Mykonos featured a stop at a Greek orthodox monastery. The group visited Athens and Corinth, where Paul preached, and where he was put on trial for preaching. They climbed Mars Hill and the Acropolis at Athens, and also saw the Parthenon and the temples of Nike and Athena.
In Santorini, they visited the ruins of a city buried by a volcano, taking in the beautiful scenery of the Aegean Sea.
"We saw churches with blue domes, which symbolize St. Nicholas, the patron saint of Greece," Rob said. They also had the opportunity to sample local Greek cuisine.
Malta was the site of Paul's shipwreck, and the group viewed St. Paul's Island from a distance. Even though it was a rainy day, they visited gardens, the marketplace, and the Knights of the Order of St. John's of Jerusalem.
Then it was on to Italy, with a stop in Sicily, where they got to see Mt. Etna.
"It was boiling," Rob noted.
Paul was around this area as mentioned in Acts 28, as well as in Naples. This was a special location for Rob, as his mother's family was from a nearby town.
From there, they witnessed the devastation from Mt. Vesuvius in Pompeii, a city Rob estimates was as big as Charlotte. "It was a buzzing city in its day."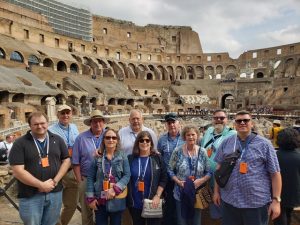 In Rome, they visited the Basilica of St. Peter and St. Paul, which Rob called "stunningly beautiful." The Colosseum was indeed colossal.
Others on the trip included Leslie Durocher, Ann and Parker Hatchett, Mark Ritchie, Taylor Hutchins, Rick and Lynn Fior, John Webb, Daniel Wilson, and Chuck and Marsha Lindler. Mark, John and Daniel went on to Vatican City, an add-on option.
"When we saw the itinerary, these were areas we have always wanted to visit," Ann said. "Studying Paul added to our interest, too. The lectures on ship were excellent. I didn't want to miss a session. The professor was very engaging and very relatable."
The weather was also beautiful, she added.
The cruise was Taylor's first trip to Europe, and included two countries he wanted to check off his bucket list: Greece and Italy.
Overlooking the city of 3 million in Athens was "absolutely gorgeous," he said. Their guide also pointed out the detail of sculpting on the Parthenon.
Taylor said Rome was his favorite stop. "There was so much to see."
He added, "A few times, I got completely overwhelmed, standing in Corinth where Paul's tent making shop was, and at his tomb in Rome. Those were moments that stuck with me, and I took time to take it in."