And a Little Child Shall Lead Them: St. John's Men's Chorus Dec. 8 at 4 pm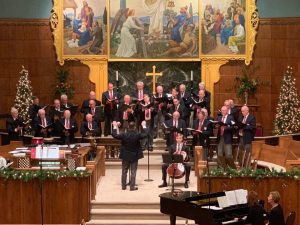 By Susan Shinn Turner
St. John's is blessed to have a vibrant music ministry — especially at Christmastime. As part of that ministry, the St. John's Men's Chorus will present its annual Christmas concert, slated for 4 pm Sunday, Dec. 8, in the Sanctuary.
This year's theme is "And A Little Child Shall Lead Them," based on the verse from Isaiah 11:6.
 The wolf shall live with the lamb,
 the leopard shall lie down with the kid,
 the calf and the lion and the fatling together,
 and a little child shall lead them.
"I never know where my inspiration is going to come from," says Jason Harwood, who directs the chorus. "But this verse just got stuck in my head, and I decided we should build a program around it. I was determined to make it work."
Although Jason didn't select a particular piece based on this verse, he did ask Pastor Laura and Stacey Shafer, children's minister, to have the children assist with readings and meditations for the concert. "So we will have young people involved."
For this concert, Jason chose pieces that focused on the Baby Jesus — "Jesus, Jesus, Rest Your Head," "What Child is This?" and others that "point us toward Jesus as a child."
The concert will also include classic carols and spirituals.
As always, Jason asked the chorus for their expertise in putting together the selections.
"I definitely lean on these guys a lot," he says. "They are the experts, and they are good about suggesting pieces. We collaborate. They are very familiar with the music library, and it's extensive. There's so much to pull from, and then we narrow it down."
Janie Rollins will accompany the chorus on organ and piano, Davis Brown is serving as arranger, and instrumentalist on synthesizer and percussion, and the St. John's handbells will play.
The concert is free, and a freewill offering benefits the Community Care Clinic.