Steve and Ashley Yang Celebrate Little League Softball World Series Win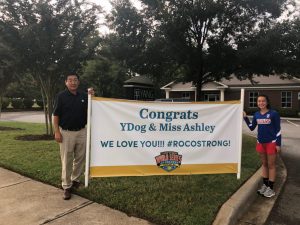 By Susan Shinn Turner
Once again, Rowan County has a world championship softball team. Its manager, Steve Yang, and his younger daughter, Ashley, are St. John's members, along with the rest of the Yang family.
Steve's older daughter, Ellen, was a part of the first championship team in 2015 as an 11-year-old. That team was runner-up in 2016. In 2017, the team was again runner-up, but neither daughter was on the team.
Then Ashley became a team member in 2018, when the girls suffered a tough regional loss. But they came roaring back this year to take it all again.
The team is still receiving kudos, according to the girls' mom, Lori, including a coveted invitation to the White House. They visited the White House on Friday, Oct. 11.
Many of us watched those games in Oregon, but what we don't see are all the behind-the-scenes practices.
"In the beginning in June, they picked the team and started practice," Lori says. "They practiced just about every day. There was a lot to learn."
The 11- and 12-year-olds advanced through district, state, and regional competition before returning to the world championships in Oregon, practicing the whole time.
Most of the girls are on travel teams, Lori says, but this group hadn't really played together before June. They came from Rowan County and Mooresville.
Steve and Lori also have four boys, and all of Ashley's siblings were able to go to Oregon and support her.
"It's a lot of fun," Lori says. "I was so happy for Ellen to be able to experience this as a sibling. That's a parent's dream, to have two of your children experience something wonderful like that. Thank God we took everybody. I can't imagine if we hadn't taken everybody and they would have won."
Besides watching softball games, the whole group — about 55 not counting the team — took some day trips together during the 10 days they were there. It was a flexible group who was willing to go along with whatever Lori planned, she says.
Lori also gives credit to Steve's dental staff, who rearranged his patients. They also put up a congratulatory banner in front of his office for him and Ashley when they returned home.
Because of the win in 2015, Steve and Lori knew what to expect when the team returned home, including a parade through downtown Salisbury and party at the city park.
"The girls were overwhelmed," Lori says. "It was really a big deal for them. It made them feel really special. That's one of the perks of a small town. It makes you proud of where you're from."
After the win, Lori says, the parents tried to take pictures of the girls on the field, but they were too busy taking pictures with the friends they'd made on the other teams.
"It didn't really hit them at that moment," she says. "They had made friends, and that was really neat. Win or lose, it was a good experience."