Medical Equipment: Your Health Care Ministry Team has the Tools, and We're Here to HELP!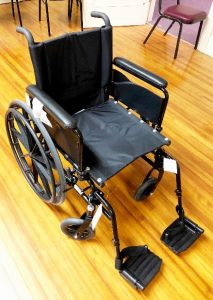 By Gerrie Blackwelder
If you are sick or in need, you've got a friend. And that friend has walkers and canes, but more importantly a motorized wheelchair with a car lift, bedside commodes, lots of wheelchairs, shower chairs, rollators and other items that may make life less challenging and a bit more mobile.
Know that we are eager to help. St. John's member and retired nurse, Lynn Denker, has taken charge of the organization, cleaning, and distribution of Durable Medical Equipment that may be very handy for you, a family member, or a visitor to your home. The truth is every medical situation may not warrant a prescription for medical equipment to assist with health needs. Purchasing many items on your own becomes expensive so we are much like a lending library for medical equipment. Come try us out!
Imagine a family elder is coming to visit, loves parks, but has limited mobility. You may wish to check out one of our wheelchairs to enable your visitor to go on a garden tour, though she or he may not typically use a wheelchair. Maybe a friend is coming to visit, but the medical equipment is too cumbersome to pack in the car or store on board a flight and maneuver through an airport. Just give us a call and we can line up needed equipment to make the visit more comfortable.
Perhaps it's you! You take a tumble at home and have a sore and slightly swollen foot. It isn't a major issue, but as you negotiate your house, a crutch may well ease the soreness for a day or two plus increase mobility. Think of us as you handle the surprise of you or a loved one's sports injury, planned surgery, or an elder who has to wait a while for a medical appointment but seems frail.
The equipment comes in different sizes, weight bearing capacity, and most pieces are adjustable to height. Lynn may ask you several questions to determine which piece within each type is best to pick. Lynn will also help arrange delivery and pickup either at the church or a more convenient location if you are incapacitated. Once your need has resolved or visitor has returned home just call Lynn to return the items and she will log them back into inventory.
If you have serious concerns for a friend or family member, of course go to a doctor, but for many issues, we may be able to assist.
Give Lynn Denker a call at 805-455-0252 or email to ladenker62@gmail.com. We are eager to help!
Available Items:
Walkers
Shower transfer bench
Walker with crutch platform attachment
Universal crutch/walker platform
Commode chairs
Shoe horn
Wheel chairs
Raised toilet seat
Aluminum crutches
Forearm crutches
Canes
Walking sticks